Juliette Burton answers 10 Edinburgh Fringe Questions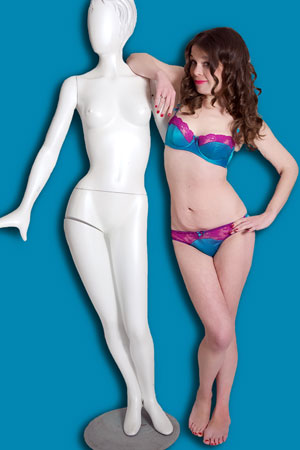 Comic Juliette Burton answers 10 questions as she returns to the Fringe with another run of Look At Me.
1. Tell us about your career so far. Are you happy with where you're at?
I started back in 2011 as part of Mace and Burton. I did my debut solo show in 2013, toured around Australia for 3 months, returned in 2014 with a Fringe full of sell out shows and 5 star reviews. I've won a couple of awards, met some awesome people. I'm excited to see what comes next!
2. Describe your show in exactly 23 words.
Award-winning, topical, surprising, 5 star docu-comedy about appearances, identity, mental health. Laugh and think! Is what we appear to be who we are?
3. Why are you putting yourself through this famously stressful experience?
Lives can change there. I know mine did. Also the Fringe is addictive and I get easily addicted to things!
4. Any cunning plans to get more punters in?
Flyering! Not exactly a revolutionary plan but I'll be out there enthusing to people about a show I believe in.
5. How much money do you think you'll lose/make this year?
My grandmother taught me never to discuss money in public. But she won't be reading this, she doesn't go to comedy shows. And she's dead. Anyway, it's an investment in my career. I love it, and you can't put a price on love! Although selling out would be extremely nice...
6. What's your weirdest past Fringe experience?
Bumping into comedy legend John Lloyd on the Royal Mile and him asking to come to see my show, then performing on his Quite Interesting Pick of the Fringe at BBC Potterow.
7. What other shows are you hoping to see?
Daniel Kitson, Doug Segal, Felicity Ward and Abnormally Funny People. I'm also looking forward to brunch at Kilimanjaros on Nicholson Street!
8. If you took over programming a venue, what would you perfect line-up of comedians be?
Shakespeare, Daniel Kitson, Eminem, Gonzo, The Muppets, Dawn French, Stephen Fry, Monty Python and my dad.
9. Name the one person you'd rather not bump into during the festival.
My dad. He ought to be at home on the farm managing the harvest.
10. Why should audiences pick your show over the 1,700+ other comedy offerings at this year's festival?
It's award-winning, repeatedly sold out last year, newly topical, makes you laugh AND think. Also, there's only 6 chances to see it and I'll give you a hug or a high five afterwards plus you'll leave feeling AWESOME.
'Juliette Burton: Look At Me' is at 4pm at Gilded Balloon on 16-21 August. Listing