Juliette Burton
Juliette Burton: Look At Me
Stand-up / Storytelling
4pm (1 hour)
16-21 Aug 2015
9 - 10
This is a 2015 show that has now finished.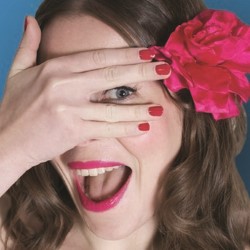 Show details
Stand-up show / storytelling starring Juliette Burton performed on the following days in August 2015...
Mon
Tue
Wed
Thu
Fri
Sat
Sun
03
4
5
6
7
8
9
10
11
12
13
14
15
16
17
18
19
20
21
22
23
24
25
26
27
28
29
30
31
1
2
Venue details
Is who we are who we appear to be? Award-winning performer Juliette Burton's been fat, thin and everything between. Now, she'll change even more! From dressing sexily to wearing the hijab, being male, obese, old and nude: can changing our outsides change who we are inside? As seen on This Morning (ITV) 'An important show ... seriously very funny. A must-see' ***** (Daily Mirror). 'Powerful stuff' **** (Sunday Express). 'Juliette Burton's future may be as bright as her world view ... with her Zooey Deschanel-style glee.' (Stage).
Share this show
Press coverage
Full press release
Following last year's critically acclaimed, sell-out show run, Look At Me is back at the Edinburgh Fringe for 6 shows only. In this show Juliette tackles complex and difficult issues and uses her unique style of comedy to raise mental health awareness. Her previous hour-long show, When I Grow Up, alongside Look At Me, are the first and second of a six part series of The Dreamer Series which all explore identity and what defines us.
Juliette's appearance has changed over the years - she's been a size 4 and a size 20 and just about everything in between. Now she's set to change even more. From wearing a hijab to dressing in a provocative manner, being male, being obese or even being old; can changing our outsides change who we are on the inside? And is what we appear to be who we actually are? She will explore what we know about a person from first appearance, the power of the beauty myth and nuances of self-perception... all in one comedy show!
Using Q Lab presentation, original music and interviews with a diverse range of people (thalidomide, physically disabled, cystic fibrosis suffers, cancer patients, obese people, girls who self-harm, models, 70 year-old women, a range of ages, races and genders) this uplifting docu-comedy is a celebration of body confidence and beauty diversity. Burton worked closely with the facial disfigurement charity Changing Faces, the body image charity B.O.D.Y, the eating disorder charity B-eat and the Muslim Women's Association of Edinburgh in researching the show.
If you are looking for a show that not only packs humour, hilarity and jokes, but also adds a deep and worldwide message and supports important causes, then this is definitely for you. With Juliette's string of rave reviews and incredible feedback from critics she is clearly a rising star who's here to pack a punch in the world of comedy and promote her inspiring message along the way.
Juliette Burton
Juliette has performed 2 sell-out, critically acclaimed shows, When I Grow Up and Look At Me, at the Edinburgh Fringe. Look At Me won the Argus Angel Award for Artistic Excellence at the 2015 Brighton Fringe and was nominated for The Skinny's Talk Of The Town Award at the 2014 Edinburgh Fringe. The show also featured in John Lloyd's QI coverage for the BBC that year.
Juliette has toured both shows around the country as well as performing When I Grow Up at the Adelaide Fringe and Melbourne Comedy Festival.
Juliette's TV and radio credits include This Morning (ITV), Skin Deep (BBC Radio Scotland) and Feeling Kind Of Funny (BBC Radio Scotland). She is also a spokesperson for the Be Real campaign and acts as an ambassador for the charities B-eat and Mind. In 2014 Juliette presented at the inaugural Body Confidence Awards held at the House of Commons alongside Gok Wan, Viv Groskop and Jameela Jamil, and hosted the TEDxWarwick 2015 Talks event at Warwick University.
Videos
---
Tweets by JulietteBurton