Howard Read answers 10 Edinburgh Fringe Questions
Howard Read is the man behind kids show Annabelle's Skirting Board Adventure.
1. Tell us about your career so far. Are you happy with where you're at?
I'm a comic, who does animation, kids shows and most recently writing for kids TV shows like Horrible Histories, Danger Mouse and The Furchester Hotel, among others. I'm really enjoying the mix of stuff I do, so am very happy, yes.
2. Describe your show in exactly 23 words.
Multimedia comedy show for everyone, including three-year-olds. There's seven cameras, a full set, a cartoon elephant, moth, a trumpeter and me.
3. Why are you putting yourself through this famously stressful experience?
I'm also doing a WIP stand-up show too. Very rarely in life do you get the highs and loss of the Fringe. Unless you're in a soap opera, or in prison. It makes me feel alive.
4. Any cunning plans to get more punters in?
Dig pits, and cover them over with sticks and flyers.
5. How much money do you think you'll lose/make this year?
No idea. Usually one show makes money and one show loses, but with both Annabelle and my stand-up it's more about the long term. This time next year - millionaires.
6. What's your weirdest past Fringe experience?
Having Nicolas Parsons try to get me to feed him the questions I wanted him to feed to my animated cartoon boy after he'd fallen asleep while watching my first ever fringe show.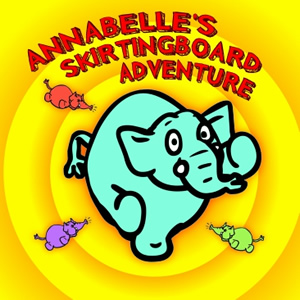 7. What other shows are you hoping to see?
Funz and Gamez, so I can see what made every comic on the circuit think they should put on a kid's show too. Thanks boys.
8. If you took over programming a venue, what would you perfect line-up of comedians be?
Mick Ferry and Glenn Wool alternating throughout the day.
9. Name the one person you'd rather not bump into during the festival.
Any of those jugglers who carry swords. It's too late to say Kate Copstick as she found me last week.
10. Why should audiences pick your show over the 1,700+ other comedy offerings at this year's festival?
If they have a toddler, it's the only original comedy theatre show aimed at their kid. If they don't, it's the only place you'll see a tiny elephant carried around on a man's finger, voiced by one of the best jazz trumpeters in the country/my flat (can't remember what it says on his CV now).
'Annabelle's Skirting Board Adventure' is at 11:30am at Just The Tonic at The Community Project on 6-17, 19-30 August. Listing