Inaugural FringePig Ham Fist prize winners announced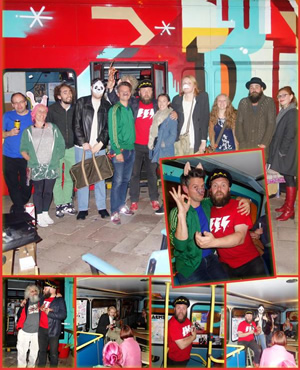 A review of Stuart Goldsmith has won the first ever Ham Fist Prize from the website FringePig. Other awards were presented to Bob Slayer and British Comedy Guide's Ian Wolf.
The Ham Fist Prize is the creation of FringePig.co.uk, a website established by stand-up Liam Mullone, with contributions posted in the guise of stuffed toys.
The site was set up in 2014 to "review the reviewers" and, in the process, improve the standard of journalism at the Edinburgh Festival Fringe through the process of shining a spotlight on badly written reviews and other related journalistic errors.
Talking place on Bob Slayer's Blundabus in the early hours of the final Sunday of the Fringe (30th August), the bulk of the awards ceremony consisted of comedians including Goldsmith, Thom Tuck, Liam Cook and Henry Maynard reading out the nominated reviews on the venue's top deck - a task made a tad more difficult when, about 90 minutes into the ceremony, the generator packed in.
After a public vote on Twitter, the review named as the worst of the entire festival was Graeme Connelly's write-up of Stuart Goldsmith's show for The List.
FringePig explains: "Graeme wins for his stunning use of bathos. In his review of Stuart Goldsmith: An Hour he worships at the feet of Goldsmith for several paragraphs, and then ends with three stars. It's a simple formula, but a winning one. The funniest reviews are often the simplest. Connelly receives the staggering sum of £50, which, we are told, can buy a very brief sensation of three-star pleasure if you know where to look. Mr Goldsmith wins £200, which he hardly needs since he is, apparently, a glowing comedy adonis with the world at his three-star feet."
Goldsmith collected the cash prize and a trophy - consisting of toy pig ears and snout - in person. However, he said that he planned to split the cash prize with fellow nominee Lieven Scheire because he thought that the seemingly nonsensical five star review of Scheire's show by Mark "Divine" Calvert for Mumble Comedy - a review that consisted of poor grammar and featured Divine constantly referring to himself in the third person - was worse.
Goldsmith dedicated his 'win' to his partner and their forthcoming first child.
In second place was a three star review of Bobby Mair written by Paul Fleckney on Chortle.
Fleckney reviewed Mair's show via an online Periscope stream the comedian had organised. The organisers say: "FringePig feels quite strongly that - although technology will soon mean you don't HAVE to - it's still polite to be in the same room as someone if you're screwing or reviewing them."
It should be noted that Fleckney did later go to the show in person and wrote a three-and-a-half star review
The other main nominations were Laura Geoff's four star review of improv troupe The Beau Zeaux in One4Review, a review in which she keeps questioning herself rather than reviewing the show; and Philip Fisher's two star review of Edinburgh Comedy Award nominee Joseph Morpurgo in The British Theatre Guide, a write-up in which he says he can't understand why the audience are laughing.
The work of other reviews was also submitted on the night. Becky Rutherford, of EdFringe Review, wrote a review of what she considered to be a shambolic comic performance from Mat Ewins - failing to realise that Ewins plays a deliberately shambolic comic character.
Meanwhile, Jo Nead from Arts Award Voice submitted a confusingly mixed review of Chris Betts; Steven Vickers from Mumble Comedy spent a paragraph of his review of Tatterdemalion trying to work out what star rating the show should get; and a review of Sarah Kendall in the The Evening Standard was highlighted for initially mistakenly being illustrated with a photo of Lucy Porter.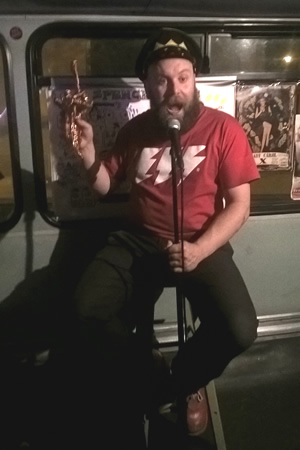 The FringePig ceremony also included two additional awards. Bob Slayer (right) received the "Flying Fuck Award" - a copper wire trophy of a hand giving the middle finger - for his attitude towards reviews and reviewers. Meanwhile, on Goldsmith's suggestion, Ian Wolf from British Comedy Guide was given a special 'Unsung Hero Award' (a toy panda mask with the words "Unsung Hero" written on it in felt tip pen) for his work collating reviews for BCG's Fringe site.
Writing on their website, the organisers of the FringePig awards noted that the standard of journalism had generally improved since last year, but there was still work to be done.
'Founder' Mr Kipper said: "Last year reviewer-reviewing for FringePig was like shooting fish in a barrel. This year it was clear that a lot more care was being taken with reviews. Bernard O'Leary, ex-editor of The Skinny, told me that it was largely thanks to us. And that the fear of upbraiding had made the journos check over their blurbs, and the editors proof-read more thoroughly.
"The downside of all this is that, on the whole, there are fewer idiots to laugh at. We could just stop what we're doing, but we see now how important it is. We've had so many nice messages from editors and reviewers, and quite a few constructive conversations where we were asked for advice and found ourselves imparting knowledge rather than extracting piss. This year we became part of the Fringe infrastructure. And we've had praise, too. Why, Mr O'Leary himself said: 'We hate you but feel that, on the whole, you're a good thing.' Who needs any better reason that this to exist? That's pretty much three stars right there."
To see all the FringePig reviews of reviewers visit FringePig.co.uk