Chris Coltrane answers 10 Edinburgh Fringe Questions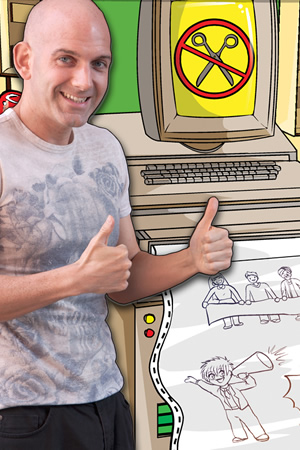 Chris Coltrane admits he wishes there was a little more money in anti-capitalist stand-up comedy...
1. Tell us about your career so far. Are you happy with where you're at?
This is my fourth solo show. I've been going for about six years (though I started in 2007), and I was bad for the majority of it. I'm now "not bad". If you saw me when I was dreadful, please give me another chance. I've learnt how jokes work now.
I'm happy with my lot. Since I started I've met and befriended almost all my heroes, made tons of gorgeous friends, and hopefully made the world a better and happier place.
If I'm being honest, I sometimes wish there was a little more money in anti-capitalist stand-up comedy! But I'm still fairly new and have an awful lot to learn, and I'm looking forward to working hard at getting better.
2. Describe your show in exactly 23 words.
A Tory-smashing political comedy show with a heart, but also very silly and playful. We'll make love at the end, for hours.
3. Why are you putting yourself through this famously stressful experience?
Because it's what I love. I couldn't do anything else. Stand-up is how I make sense of the world. And because I honestly think you can change the world through laughter. Genuinely, my aim is to make people laugh, but also to inspire them, to help them to carry on the fight against austerity. If I can give people a boost, then it's all been worth it.
4. Any cunning plans to get more punters in?
I mainly plan to get people's attention by tapping into the zeitgeist.
For example, at the moment everyone is going crazy for kites. Whether it's a boy-child swimming with his favourite kite, or Queen Liz-Beth 2nd™ tying a dog to a bit of string and throwing him far, far into the air, us Brits simply cannot get enough of kites!! So if Edinburgh were today, I'd be putting my big old face on a kite, and sailing it atop the famous Military Parade.
But of course, by August the fashion will be over. I'm predicting that by the start of the Fringe everyone will instead be getting into the new craze coming out of Japan: pallets.
More and increasingly more, the British just love to store their goods on a pallet. That's why I've contacted Costco to have my face printed onto over 500 of their pallets, which I'll leave strategically around Edinburgh to send a message to potential audience that I'm serious about efficient goods distribution. I believe that showing a sincere dedication and passion for best practices will show my audience that they can #trust both me AND my punchlines.
5. How much money do you think you'll lose/make this year?
I think I'll make £500,000, but then I'll become addicted to fudge and shortbread, and I'll have nought to show for it except a handsome gut, and permanent sadness. (I actually do think I'll break even. I pay for adverts around Edinburgh. It makes a difference, but they're not cheap. But the increased audience balances it out. Isn't industry chat exciting!! (No.))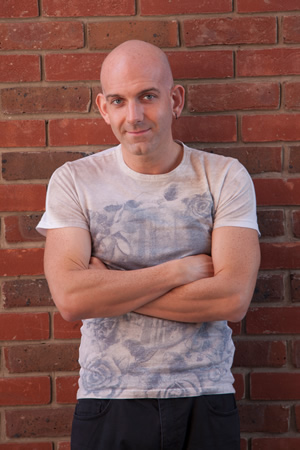 6. What's your weirdest past Fringe experience?
Probably the time a very famous TV comic asked me for a flyer in my first year. I was thrilled - until I realised not only that the reason he wanted a flyer was to wipe some bird shit from his jacket, but that he fully planned to wipe the shit off in front of me, using the flyer with my face on it. The lessons I learnt that day: hierarchy is real, and famous comedians will do everything they can to crush you. And by everything, I really do mean everything. And by "everything" I mean using one of your 5,000 flyers to help clean up an embarrassing and unfortunate problem. And by "using one of your 5,000 flyers to help clean up an embarrassing and unfortunate problem", I mean everything.
7. What other shows are you hoping to see?
Stuart Laws, Matt Winning, Eleanor Morton, Katia Kvinge, Will Seaward. I'm cheating with this question: I've already seen them all in previews, and they're properly phenomenal. I honestly think that Matt's show is Best Newcomer material. See me, see them, and then see nothing else.
I *would* also recommend pale goth-me-up Stuart Black, who is possibly the sharpest and most thoughtful and brilliant comic I know. But, as he consistently refuses to take my good advice of calling his show Stuart Black 2: Bigger and Blacker, I simply cannot recommend him. Having said that, I absolutely recommend him.
8. If you took over programming a venue, what would you perfect line-up of comedians be?
Good question! It would be Jim Davidson, 24 times a day. But the venue would be deep, deep underwater, in the ocean. He would have oxygen tanks and good lighting - I'm not a monster - but he would mainly have to perform to fish and sharks, who would struggle to understand Davidson's punchlines, due to their lack of familiarity with the concepts of racism or sexism, and would probably put very little money into the bucket (it's a Freestival venue). He would not be allowed toilet or food breaks, or sleep, and he would have to perform every hour of every day for a month, underwater, in the cold. This would be my perfect line-up.
9. Name the one person you'd rather not bump into during the festival.
Probably the now-forgotten 1920s political comedian Johnny "The Jokes" Bumprington, whose material I have successfully ripped off for my entire career. My advice to new comics: Don't waste your time writing new jokes. Olden days people wrote loads of them already, and now everyone's forgotten them. Plunder their legacies like so much problematic war gold, and claim them as your own.
10. Why should audiences pick your show over the 1,700+ other comedy offerings at this year's festival?
You should definitely pick my show if you're a hottie and you plan to chat me up afterwards, or if you know of any cool milkshake restaurants where we can drink a week's worth of calories together. Also, pick my show because I'll recharge your batteries for the fight against this monstrous, psychopathic government, and I'll make you feel less alone.
Having said that, don't just pick me over everyone else. Pick me, oh for sure pick me, but also pick like 100 other shows. See as much as you can. You'll leave Edinburgh with a heart bursting with joy. And a hate for student improv. But a heart still bursting with joy nonetheless.
'Chris Coltrane: Left-Wing Propaganda Machine' is at 3:30pm at The Banshee Labyrinth on 8-30 August. Listing