Chris Coltrane
Chris Coltrane: Left-Wing Propaganda Machine
Stand-up / Satire
3:30pm (1 hour)
8-30 Aug 2015
Free
This is a 2015 show that has now finished.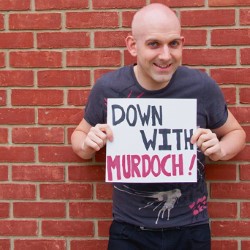 Show details
Stand-up show / satire starring Chris Coltrane performed on the following days in August 2015...
Mon
Tue
Wed
Thu
Fri
Sat
Sun
03
4
5
6
7
8
9
10
11
12
13
14
15
16
17
18
19
20
21
22
23
24
25
26
27
28
29
30
31
1
2
Venue details
A new hour of super-fun political comedy from your second-favourite activist comedian called Chris Coltrane. Friendly, uplifting Tory-smashing punchlines, for fans of feminism, socialism and joy. Come for the comedy, stay for the revolution. **** (Chortle.co.uk). **** (Scotsman) **** (Skinny). 'The future of British political comedy' (Mark Thomas).
Share this show
Reviews
Press coverage
Full press release
Bad news for David Cameron, but great news for comedy fans: comedian and activist Chris Coltrane is back with a brand new hour of hilarious, passionate political stand-up comedy, guaranteed to leave you inspired and eager to change the world.
Fans of sharp satire, intelligent nonsense and engaging storytelling will utterly adore Coltrane's fourth stand-up hour. If you love social justice, feminism and fighting bad guys, this is the show for you.
In Left-Wing Propaganda Machine, Coltrane asks: how can you stay hopeful in a world where people vote Tory? Is Labour a lost cause? Does democracy even work any more? Shall we all just go and live in the sea? At least fish don't vote UKIP. Just as the left feels like giving up, Coltrane's new show will remind you what happiness feels like.
Along the way he talks about the Greens, chocolate conventions, making drugs legal, evidence, capitalism, lying politicians, protests, and delicious cakes. You'll either leave happy or hungry. Either way, Chris will consider it a victory.
Never over-earnest and always playful, fans of thoughtful alternative comedy will find him to be a must-see act. Mark Thomas says "Chris Coltrane is one of a handful of comics who are the future of British political comedy. He is funny, smart, and often right!"
More details on Chris
- Coltrane runs Lolitics, one of London's only political comedy clubs, and a regular venue for Mark Thomas, Andy Zaltzman, Bridget Christie and Rob Newman. The podcast of the gig receives over 2,000 downloads per episode, and has been featured as both Chortle and Time Out's Podcast of the Week.
- He has been doing stand-up for seven years. He's a staple of the London alternative scene, and regularly plays Josie Long's Lost Treasures, the Alternative Comedy Memorial Society, and Andy Zaltzman's Political Animal.
- He is a satirical columnist for world news magazine New Internationalist.
- His nonsense jokes on Twitter as @chris_coltarne have gained him almost 10,000 followers.
- He is a member of the popular anti-cuts group UK Uncut, who take direct action against tax-dodgers like Vodafone and Top Shop. He has turned Barclays Bank, Soho Square and Westminster Bridge into spontaneous free comedy clubs, where over 500 protesters came to occupy and fight austerity with laughter, and has even presented an award to George Osborne when he was voted "Top Tax Shirker" by members of the PCS Union. More Info
---
Tweets by chris_coltrane