Barry Cryer & Ronnie Golden
Barry Cryer and Ronnie Golden - Old Masters
Music
4:15pm (1 hour)
16-19 & 23-26 Aug 2015
12
This is a 2015 show that has now finished.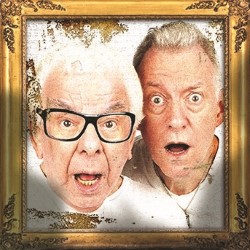 Mon
Tue
Wed
Thu
Fri
Sat
Sun
03
4
5
6
7
8
9
10
11
12
13
14
15
16
17
18
19
20
21
22
23
24
25
26
27
28
29
30
31
1
2
Venue details
Expect comedy songs and gags galore from the well-loved duo, back at the Fringe to prove they're still alive and old's cool. Barry will have an aviary of new parrot jokes and Ronnie will be cleaning up after them. 'Two of comedy's most fabled masters' (Festival Times). 'I laughed incontinently' (Guardian).
Share this show
Reviews
Press coverage
Credits
Visitor reviews

Blinkered
Even when you know the punchlines, Barry's jokes are a joy because they are delivered with such fluency and verve. The comic songs have well polished punchy lyrics, one highlight being a Johnny Cash style riff on the merry goings-on in the Berlin Bunker. Ronnie Golden's guitar playing is versatile and accomplished, and his voice, like Barry's, is strong and clear. His party impression of Al Pacino evolving into a chicken had this reviewer in tears. Barry is an ageless octogenarian and Ronnie a sixtyish scamp. The audience were not far behind demographically but this pair deserve to be seen by a much wider age-range.