Glenn Cosby
Glenn Cosby: Food Junkie
Storytelling
4pm (1 hour)
30 & 31 Jul; 1-10, 12-25 Aug 2014
10 - 14
This is a 2014 show that has now finished.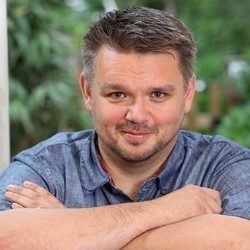 Show details
Storytelling starring Glenn Cosby that was performed at Assembly Roxy at 4pm for 1 hour, on the following days in August 2014.
| Mon | Tue | Wed | Thu | Fri | Sat | Sun |
| --- | --- | --- | --- | --- | --- | --- |
| | 29 | 30 | 31 | 1 | 2 | 3 |
| 4 | 5 | 6 | 7 | 8 | 9 | 10 |
| 11 | 12 | 13 | 14 | 15 | 16 | 17 |
| 18 | 19 | 20 | 21 | 22 | 23 | 24 |
| 25 | 26 | 27 | 28 | 29 | 30 | 31 |
Venue details
Over seven weeks, millions of viewers watched every challenge, every showstopper and sat on the edge of their seats as Glenn worked his way through series four of the Great British Bake Off. This year he makes his debut at the Fringe with special festival guests and you will also get to try some of his famous bakes... Expect a live cooking event like no other! 'His tastes buds are always bang on' (Paul Hollywood). 'Really good baking skills' (Mary Berry). 'I would actually like to live in one of Glenn's big bakes. Forever' (Mel Giedroyc).
Share this page
Reviews
Press coverage
Full press release
The star of last year's Great British Bake Off, Glenn Cosby, makes his debut at this years Fringe with his show entitled Food Junkie. Expect great stories, secret recipes and a piece of cake for every audience member! Food Junkie will also unveil the world's smallest bakery, where he will cook live!
Over 7 weeks, millions of viewers watched every technical challenge sitting of the edge of their seats as Glenn Cosby worked his way through series four of the Great British Bake Off. The gay baker, who is happily in a civil partnership, was the last man standing on the fourth series. He became known for his enthusiasm, big cakes, simple flavours and fuss-free approach, while the others patiently kneaded their filo dough he let the mixer do the work and had a cup of tea!
Glenn has always had a passion for food and consequently, like most of us, became a yo-yo dieter! He recently, however, lost 4 stone and will try and lose more before he hits Edinburgh! When he was much younger he used to want to be overweight just in case a girl asked him out! He figured that if he were fat he wouldn't be put in that position!
He always loved to cook and bake throughout his childhood and teens, but got distracted when he went to university. He became a teacher and started to bake again, but didn't really get back into it seriously until the first series of Bake Off in 2010, which inspired him to bake pastries and cakes regularly and also to tackle breads. After watching the first three series he decided to apply, along with 13,000 other applicants last year and was completely gob-smacked to be selected as a contestant!
Since Bake Off ended he has given cooking demos at major food events around the country including the Good Food Show, the Cake and Bake Show, Devon County Fair, the Exeter Food Festival and the Big Cake Show. He has also appeared on many TV shows including BBC One's Spotlight and Inside Out and is in discussion with the production company that makes Bake Off about other television projects.
---
@GlennCosby
Loading tweets...