Fuckstorm 3001
Fuckstorm 3001 - Daniel Kitson, Alun Cochrane and Andy Zaltzman
Stand-up
12am (1 hour)
13-14, 17-21 & 24 Aug 2014
9
This is a 2014 show that has now finished.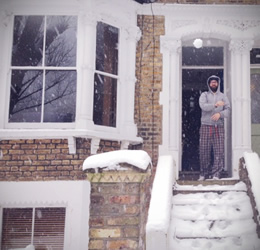 | Mon | Tue | Wed | Thu | Fri | Sat | Sun |
| --- | --- | --- | --- | --- | --- | --- |
| | 29 | 30 | 31 | 1 | 2 | 3 |
| 4 | 5 | 6 | 7 | 8 | 9 | 10 |
| 11 | 12 | 13 | 14 | 15 | 16 | 17 |
| 18 | 19 | 20 | 21 | 22 | 23 | 24 |
| 25 | 26 | 27 | 28 | 29 | 30 | 31 |
Venue details
Brochure note
This show was not listed in the official Fringe programme so you may not find details elsewhere.
Kitson and Fathers. At Midnight, In a Basement (With Some Very Poor Sightlines) A Successful Man (Thirty Seven) Clings On to the Dwindling Remnants of a Once Mighty Friendship Group, Buying Their Company With The Attendant Credibility Of His Implicit Approval And The Crossed-Fingered Promise of a (Meagre) Fee (+VAT)
Share this show
Reviews
Press coverage
Full press release
This was sent via Daniel Kitson's mailing list on the 6th July...
So - here is the news - I'm doing some shows in Edinburgh, during the fringe. Now, this is not being announced late in the day as some sort of crafty anti marketing gambit but rather as a result of my having been busy with other things / ongoing incompetence / staggering (heroic) lack of regard for programming convention.
Basically, I knew I wanted to do something low key, where I would get to hang out (spend time) with my friends (colleagues) and a reason (purpose) to be in Eddy B (Edinburgh) where I could go and see shows and maybe ride a bike and strut around like a forgotten hero waggling my dignified rejection of awards culture in the air whilst constantly mentioning my many many many awards (THEY DO NOT DEFINE ME) - but I didn't know what that thing would be.
Midnight: 3rd - 12th August (not Fridays and Saturdays)
A Variety of Things In A Room - Daniel Kitson and Gavin Osborn
Midnight: 13th - 24th August (not Fridays and Saturdays)
Fuckstorm 3001 - Daniel Kitson, Alun Cochrane and Andy Zaltzman
The show with Alun and Andy will be as the title suggests - three men showing off and shouting over each other for around 90 minutes - Andy will probably do some Puns and say the word "Testify" a lot. Alun will almost certainly get a bit drunk, demand he gets paid VAT and insist he's not a postman. I am preparing a "Set piece" for each half of the show in case the cross talking improvisational chit chat turns out to be unutterably poor.
- Tickets are £9
- We will sell 100 tickets for each show in advance
- 40 day tickets for each show will go on sale, in person only, at the stand box office on the day of the show at noon.
- Tickets are limited to four per person
- There will be no physical tickets, you'll have to provide some form of id on the door to be checked against a list
I dare say that sounds like a bit of self regarding palaver but we have put a fair bit of thought into trying to make it as reasonable and even handed as possible whilst keeping the naughty touts away and bearing in mind the operational implications of day tickets on The Stand box office whilst they have countless other shows to be dealing with. I dare say there will be some of you who are oddly livid about that system and believe it could have been better organised to suit your needs and to those people i can only apologise, by which i mean - you can stick it right up your jumper.
ADVANCE TICKETS WILL GO ON SALE AT NOON ON WEDNESDAY 9TH JULY AND ARE ONLY AVAILABLE ONLINE AT THE FOLLOWING LINK www.thestand.co.uk
Credits