Alex Edelman
Alex Edelman: Millennial
Stand-up
8:15pm (1 hour)
30 & 31 Jul; 1-24 Aug 2014
7 - 11.50
This is a 2014 show that has now finished.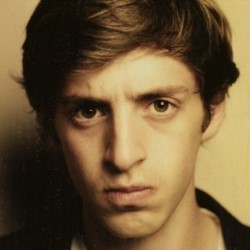 Show details
Stand-up show starring Alex Edelman performed on the following days in August 2014...
| Mon | Tue | Wed | Thu | Fri | Sat | Sun |
| --- | --- | --- | --- | --- | --- | --- |
| | 29 | 30 | 31 | 1 | 2 | 3 |
| 4 | 5 | 6 | 7 | 8 | 9 | 10 |
| 11 | 12 | 13 | 14 | 15 | 16 | 17 |
| 18 | 19 | 20 | 21 | 22 | 23 | 24 |
| 25 | 26 | 27 | 28 | 29 | 30 | 31 |
Venue details
Alex Edelman is a New York-based comedian who has lived in Boston, LA and Jerusalem. He's a recent college graduate, and according to the Boston Globe, has 'natural comic timing' and contains qualities 'wonderful to see in a young comedian'. This is his first Edinburgh show. He's been working on it for a long time, so it'll be good. Even figuring out the simple, one-word title for the show was an agonising amount of stress. He'd like you to come see it. It covers a lot of ground, or at least a little bit of ground, intensely.
Share this show
Reviews
Press coverage
Full press release
Hotly tipped New Yorker, Alex Edelman, makes his Edinburgh Festival debut this year with his show Millennial at the Pleasance Courtyard. A recent college graduate, he has also lived in Boston, LA and Jerusalem! The Boston Globe, has described him as having "natural comic timing" and has qualities "wonderful to see in a young comedian."
Alex Edelman has just turned twenty-five. That fact on its own doesn't tell you a lot, but these days, it actually means quite a bit. It means that, in comparison to other generations, he's more likely to be multi-racial (he's not), in favour of gay marriage (he is), Chinese (he's not), and a college graduate (he is, and really, that's kind of what the show is about).
In 2014, being twenty-five means that Alex fits squarely into an age group people in the United States refer to as "Millennials." Millennials are anyone born between 1983 and 1999, and to advertisers and journalists both; they're the most puzzled-over and sought-after generation group. Brands sell to them in the dumbest and most irritating ways. For Alex, like many of his peers, it's been a tumultuous couple of years since college. He's had a cancer scare, a few jobs, some fights with customer service representatives, before settling into where he is now, a full-time comedian.
More than once, and in more than one platform, Alex has been labelled as someone who represents these Gen Y-ers. In some ways he is. He's joined online dating, and owns a malfunctioning smartphone and mulled over getting a tattoo. But can you really generalize and entire generation? To figure out exactly how alike he is to his generational cohorts, Alex took a test to figure out how he measures up.
This is what he found out.
---
Tweets by Alex_Edelman