Foster's Edinburgh Comedy Award Nominees 2014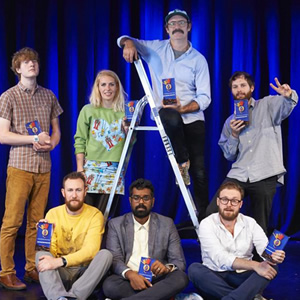 Update: John Kearns and Alex Edelman won. Story
The nominees for the Foster's Edinburgh Comedy Awards 2014 has been announced. Below you can see the shortlists for both the Best Comedy Show and Best Newcomer categories.
Click on any title to see the full listing for that show, this includes a list of all the reviews the show has had.
Nica Burns, the producer of the awards, says: "For the second year running, reflecting the huge amount of diverse comedy talent at the fringe, the shortlist for the Foster's Best Comedy Show is seven strong. Between them, these outstanding performers reach every funny bone. Unprecedentedly three 2013 Best Newcomers - John Kearns, Liam Williams and Romesh Ranganathan have graduated to the Best Comedy Show shortlist in only a year. The Edinburgh Fringe continues to launch the comedy stars of tomorrow."
---
Best Comedy Show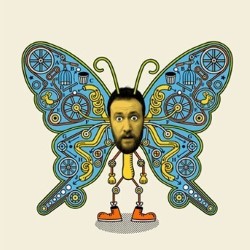 Alex Horne: Monsieur Butterfly
Stupidly ambitious, logistically problematic, potentially disastrous, this is the show Alex Horne has wanted to make for a decade. Finally, he will be Monsieur Butterfly. One flap of his delicate wings, and mayhem may prevail. 'A terrific, high-concept comedy show, intricately constructed and forever whipping the rug out from under us' (Guardian). 'An understated feat of choreography that once again proves Horne to be one of the most inventive comics on the Fringe. It's also extremely funny' (Observer). 'Bathing in brilliance' (Independent).
---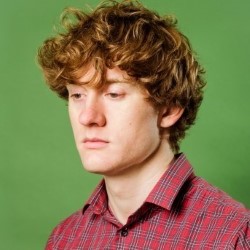 Foster's Edinburgh Comedy Award Best Show Nominee 2012 and 2013. James Acaster has something he's been meaning to tell you. He's been putting it off for some time. You might want to sit down. Expect whimsical rabbiting on and awkward physicality throughout. Seen on Never Mind the Buzzcocks and 8 Out of 10 Cats. Heard on James Acaster's Findings (Radio 4) and The Josh Widdicombe Show (XFM). 'Beautifully constructed "art of stand-up" stuff' (Sunday Times). 'Curious, original and immensely enjoyable' (Telegraph). 'One of the sharpest comic minds to have emerged in recent years' (Guardian).
---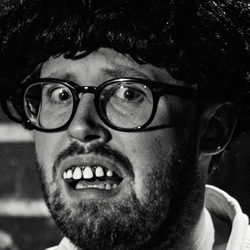 Yet another show from the winner of last year's Foster's Best Newcomer Award. Barry Award nominee 2014. Triple nominee at the Chortle Awards 2014. What was said about last year's show...'Now this is how you do absurd comedy...a bold, hilarious debut...he has forged comedy gold' (Steve Bennett, Chortle.co.uk). 'A true comedy original' (Time Out). 'Perhaps his finest achievement is that in the course of the whole show, there's nothing you can actually identify as a joke' (Guardian). 'Extremely funny' (Scotsman). 'Spike Milligan, Vic and Bob, John Kearns. Say hello to comedy's latest lunatic' (Bruce Dessau, BeyondTheJoke.co.uk).
---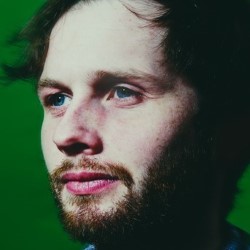 Less pathetic now, Williams follows his Best Newcomer nominated debut with a free show about money. Let Edinburgh tremble. He's in Sheeps if you're a fan of them, though his solo stuff is a bit different tonally. If you like television he's done a few things for that: Russell Howard's Good News, Comedy Central At The Comedy Store, something for Channel 4. And if you're old, he's been on BBC Radio 4, like, three times. 'Beautifully crafted' ***** (Metro). 'A rather special stand-up' (Telegraph).
---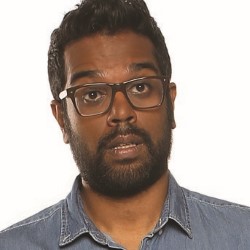 Romesh Ranganathan: Rom Wasn't Built in a Day
Romesh Ranganathan is an inadequate human being. He is trying to improve himself. He is reading self-help books, watching documentaries and delivering witty repartee at parties. Come see the results for yourself. Nominated for Foster's Edinburgh Comedy Award, Best Newcomer 2013. As seen on Live At The Apollo (BBC1), Mock The Week (BBC2), and Stand Up for the Week (Channel 4). 'For a man who hates talking to strangers, Romesh Ranganathan proves rather good at it' (Chortle.co.uk). 'His ability to write bitingly fresh gags marks him out from the crowd' (Guardian).
---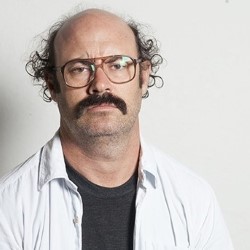 Sam Simmons: Death of a Sails-Man
Sam Simmons, a total windsurfing legend* is blown out to sea to suffer an existentialist mid-life crisis on the ocean. No epiphanies, no lessons learnt, just a dickhead and his wind sail. *isn't. Prepare yourself as the master of suburban, absurdist comedy returns to Edinburgh with his brand new show. Nominee: Fosters' Edinburgh Comedy Award 2011 'When you leave the Simmons bubble the real world seems beige.' ***** (Scotsman). ***** (Independent). ***** (Telegraph). ***** (Herald).
---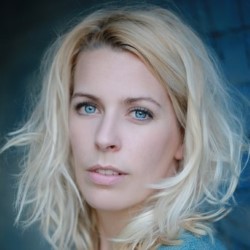 The past contains wars, witches, Kim Yong-Il and your ex. Your brain can recall being a child, while your body remembers being a monkey. Everything that has happened shapes who we are today ... does free will even exist? Who cares! Miss Pascoe is here to amuse us with her joking! 'An exhilarating, deeply satisfying show' (Times). 'Nothing less than full mega-watt charisma' (Guardian). 'Always clever and sometimes exquisite' (Independent). Sara's TV history includes QI, Twenty Twelve, Campus, Stand Up for the Week, Never Mind the Buzzcocks and Live At The Apollo.
---
Best Newcomer
The Newcomer category is for the performer or act who is performing their first full-length show (50 minutes or more) at the Edinburgh Festival Fringe.
Nica Burns said of the Best Newcomer list: "The shortlist for the newcomers is exceptionally strong with a wealth of talent from stand up to character comedy and sketch. A truly international and UK wide list featuring acts from Australia, America, Manchester and Hull."
---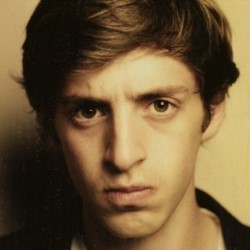 Alex Edelman is a New York-based comedian who has lived in Boston, LA and Jerusalem. He's a recent college graduate, and according to the Boston Globe, has 'natural comic timing' and contains qualities 'wonderful to see in a young comedian'. This is his first Edinburgh show. He's been working on it for a long time, so it'll be good. Even figuring out the simple, one-word title for the show was an agonising amount of stress. He'd like you to come see it. It covers a lot of ground, or at least a little bit of ground, intensely.
---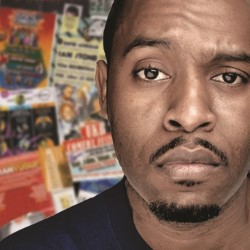 Dane Baptiste doesn't fit in. As a son of Caribbean immigrants who navigated the north/south divide before puberty, he's had a lifetime trying to find a place in society amongst gangs, grammar schooling and strict parenting. In his anticipated debut hour, this original and provocative rising star asks: is there a place for Citizen Dane? Expect razor sharp rants and slick musings. As seen on Seann Walsh's Comedy Spectacular (BBC Three) and Live from The Comedy Store (Comedy Central). 'A unique and engaging comic voice that has the potential to go very far indeed' (ComedyBlogedy.com).
---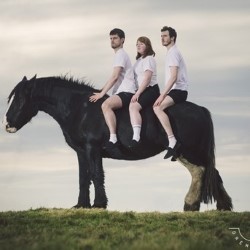 Gein's Family Giftshop: Volume 1
An hour of dark, absurd and fast paced sketches marrying the tragic with the riotous. Applying a warped world vision to the hilarious subject matter of abject misery and human tragedy. Your new favourite sketch group, you just don't know it yet. Winners: Best New Sketch Act and Audience Choice Award at London Sketchfest 2014. 'Gein's Family Giftshop made me absolutely howl' (AYoungerTheatre.com). 'A tour de force... watch this act as soon as you can' (Salfordian). 'Clever with words, clever with visuals - these three performers use simple ideas and execute them brilliantly' (TheBurtonMail.co.uk).
---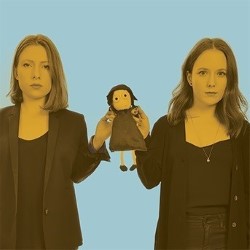 Humans on the edge. Humans on the run. Humans in double-denim. Sketch duo Lazy Susan (formerly Lebensmüde) unleash a gang of characters clawing their way back from the brink. Watch as this anarchic (but friendly) duo pour reality into a snow-globe and throw it down the stairs in their debut hour. Directed by Christine Entwisle (RSC). 'Skillfully performed and delightful to witness' (List). 'As adept at character and heart as they are at getting laughs' (Brian Logan, Guardian). 'One of the next top sketch groups' (Tom Parry, Pappy's). 'Very funny and different' (Jack Dee).
---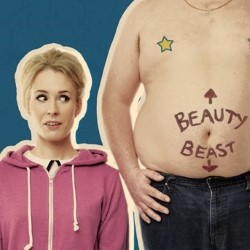 Lucy Beaumont: We Can Twerk It Out
The winner of the BBC New Comedy Award, Chortle Best Newcomer and star of BBC 3's Live at the Electric, Lucy Beaumont presents her hugely anticipated debut show. Spend an hour in Lucy's universe on the north-east coast with her unique blend of surreal, off-beat humour and big, big belly laughs. 'A new voice in stand-up both metaphorically and literally' (Chortle.co.uk). 'She's got the timing of Les Dawson ... an absolute natural' (Johnny Vegas). 'The stage Beaumont is a riot!' (Scotsman). 'A star is born' (Steve Bennett).
---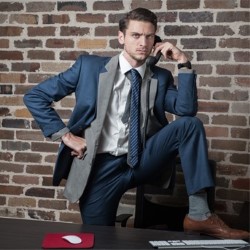 Steen Raskopoulos: I'm Wearing Two Suits Because I Mean Business
Winner: Best Newcomer 2013 Sydney Comedy Festival. Nominee: Best Newcomer 2013 Melbourne International Comedy Festival. Steen Raskopoulos builds on the success of his award-winning solo sketch show, Bruce SpringSteen Live in Concert! by creating a brand new one. I'm Wearing Two Suits Because I Mean Business promises to be a showcase of elaborate characters, physical comedy and unbiased awesomeness. Two Suits is an unforgettable comedy extravaganza written and performed by a man frequently called Steve. 'Ambitious and hilarious' **** (Age). 'Destined for big things' **** (Time Out).
---
Now in their 34th year, the prestigious Edinburgh Comedy Awards (which were previously known as the Perrier Awards), aim to locate future comedy stars. Previous winners of the title include pre-fame Frank Skinner, Lee Evans, The League Of Gentlemen and Al Murray.
This year's winners will be announced at a ceremony in Edinburgh starting at 12:30pm this Saturday (23rd August). The prize money - sponsored by Foster's - will be £10,000 for the Best Show, with £5,000 each for the Best Newcomer and the Panel Prize winner.
It should be noted not every comedian performing at the Fringe was eligible to be included in these shortlists - for example, the rules state that acts considered to have 'star' status are not eligible.
The panel this year is chaired by Mark Monahan (The Daily Telegraph). Also on the list of judges is Sam Bryant (BBC Comedy), Alex Hardy (The Times), Lindsay Hughes (Baby Cow Productions), Alice Jones (The Independent), Liz Lewin (Channel 4), Geoff Rowe (Dave's Leicester Comedy Festival) and public panel competition winners Kathy Bell, Tim O'Connor and Patrick Nicholls.