Steve McNeil interview (from McNeil & Pamphilon)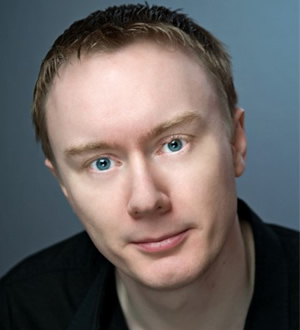 Sketch double act McNeil & Pamphilon have been writing and performing together since 2009, with three successful Edinburgh runs to date. I caught up with Steve McNeil (pictured) on a sunny/wet day in Edinburgh before watching his appearance in Wardens, a new play by Garrett Millerick and Darren Richman. Who knew an hour in the company of traffic wardens could be so enjoyable? There were plenty of laughs on offer to an appreciative audience.
Steve can also be found in Edinburgh flexing his various skills as a writer, performer and host (with and without Sam Pamphilon) at various shows in this year's festival. Sadly the roller skating skills as promised on his CV are not on display though.
I first met Steve years ago as part of The Sitcom Trials, a competition where scripts are staged live. As well as being a lovely and talented actor who performed in my sitcom, he later wrote and starred with Sam in End To End which won the 2009 competition. I asked Steve to bring me up-to-date on what's happened behind the scenes since then...
Hi Steve. What happened after End To End?
End To End got us through the door at the BBC. We had table reading sessions there, which led to a development deal. In addition to sitcom they asked us to write a Silent Sketch Show as a sort of taster of what we can do, which was a challenge given that our humour had mostly been conversational, but it went well...
That led to a couple of writing jobs for us, providing material for pilots of Funny Plus One and For The Win on BBC Three. Although the latter didn't progress to a series we did get a commission for a sitcom called Toxic based on our City Traders sketch (seen below) as a result.
Is that why there's not a full Edinburgh show from you this year?
Yes, we've been working on that sitcom for the last nine months and there just wasn't time to pull a new Edinburgh show together to a standard we'd be happy with. We'd built a good reputation as McNeil & Pamphilon with our first three runs, so we made the decision to pull out this year, rather than risk a drop in quality.
But you did Go 8-Bit!. What was that about?
It's basically drunk comedians playing video games, with us as hosts. It was going to be an extra show, now it's our main thing.
We got lots of great guests involved, including Tony Law (Mario Kart), Nick Helm (Bomberman) and Josh Widdicombe (Mario Kart). But not all on the same night - that would have been chaos. There was also songs and sketches and all the usual silly stuff we do.
This showcases your presenting skills. I could see you as the new (or complimentary) Ant and Dec. Would their types of show interest you both?
Yes, we'd happily take their career off their hands. We enjoy presenting and will be starting a podcast in the autumn, despite public demand.
So who first gave you a taste for comedy and how did you get started?
I remember seeing The Mary Whitehouse Experience when I was about 8 or 9. That was exciting and has probably had the most influence on my sketch work. Stand-up wise I loved Jack Dee and I suppose his tone has informed my character a bit within the double act...
I studied business at university but was always involved in Am Dram. In Milton Keynes there's a thriving drama community, and to a professional standard. Chicken Shed set up an outreach programme there and I ended up project managing and writing for them. Then I attended the ALRA theatre school.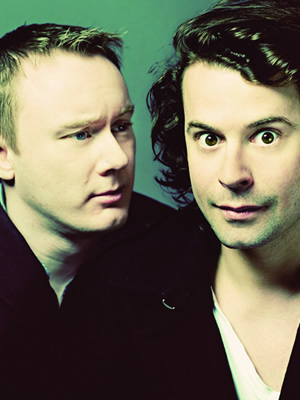 My first Edinburgh was a musical in 2007. I saw an ad there which led to my being part of Brendon Burns' show So I Suppose This Is Offensive Now which won the main comedy award that year. We went to the West End with it and to Montreal's Just For Laughs Festival. Watching someone do that every day for a month gave me a taste for it.
By then I'd had a go at stand-up, and then sketches. I felt better suited to sketches because I'd come from an acting background so I gathered some people together. There were 15 of us initially, including Jess Robinson, Oliver Lansley and Sam Pamphilon. Due to other commitments the numbers dwindled until it was just me and Sam and that kind of worked so we kept going. Sam also has me to thank for meeting his now wife in the original line up!
Could you describe your writing partnership?
We rarely disagree on what's funny. Sam comes up with more sketches and I usually write the songs. Then we develop ideas together in front of an audience.
On stage you're the straight man and Sam's the silly one. Did you try other personas?
Not really, it was a natural extension of aspects of our personality.
It was fun watching you swap roles in your show last year. Did you enjoy that?
Yes it was wonderful. I could flounce around being silly for a change. We considered swapping parts for the whole show one day last year to see what would happen. It'd be nice to do that one day.
Did you consider other names? Your's is a bit hard to remember.
Some people said we should change but we couldn't come up with a name we liked and we were being a bit stubborn in the beginning. We thought 'These are our names and if people like us they'll remember and if not we probably shouldn't be doing it.'
And now, in the bizarre Edinburgh bubble, people here vaguely remember us, even if they can't fully remember how to spell our names. Plus we're kind of attached to it now, although our directors (quite rightly) disagree.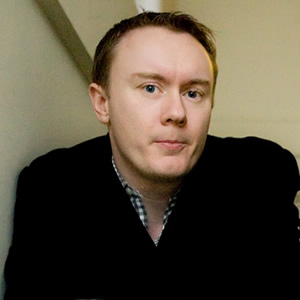 Talking of which, I asked one of your directors, Matt Holt, for a question. Here it is: "What advice would you give someone who wanted to get into writing / performing comedy and couldn't be dissuaded?
[Smiling] Do it. It's easy to sit at home and write 30 unfinished drafts of something. But just give it a go in front of an audience. We always give an idea three tries. The audience will let you know if it's funny or not. Never stop rewriting.
Do you have a preference between acting / writing / performing?
I like being silly with people I love and if I can somehow afford to eat and pay bills by doing that I'm happy. Whether its seeing something I've written being filmed, or performing myself on stage; hearing people laugh at something I came up with in my brain is joyous. I'm not interested in the fame side of it, I'm just excited about being 'in comedy' and comfortable enough to let it dictate to me how I'm allowed to join in. Maybe that's because I'm older and have bills to pay. You can't be precious about it.
You have lots of online content. Does it bother you putting so much out there?
We worried more in the early days as it eats up material. But sketches are a disposable art form. You have to trust you'll write more. It's good to keep generating content as you're quickly forgotten if there isn't something new each month.
How did you get involved in Wardens?
I lived with Garrett [co-writer Garrett Millerick] last year and had already seen the script which I loved. There were some last minute cast changes and I was asked to join. It's a great cast and a great opportunity for me to be at a festival I love. That, combined with the 8-Bit show selling well, and a couple of other things to dabble in, this is proving to be my least stressful Edinburgh yet.
And the roller skating?
Ahh yes. My dad was the DJ at a roller skating rink when I was young. I am so cool it hurts.
---
As Sam wasn't around for the interview I sent him a few quick questions via email...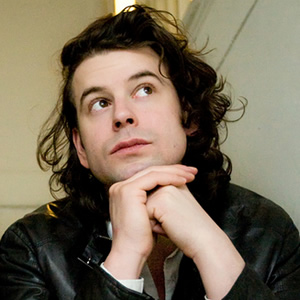 So Sam, how do you feel about Steve doing an interview without you?
To be honest Steve does far better in interviews than I do. He has an innate ability to pack the most amount of information into a sentence and only render it slightly boring. You could talk to me for a month and I'd still forget to say what the name of the show is.
Aside from 8-Bit, where else can we see you in Edinburgh this year?
8-Bit!! That's it! Well unlike Steve, who seems to think he's Dave Grohl now, I will be working only within the confines of McNeil & Pamphilon. 8-bit, the 'Best Of' and a couple of other gigs. I was considering going for a play, I'd done the original version, but I didn't and now the plays done really well so everyone's a winner really.
Where do you hope to be as an act this time next year?
Steve and I started sharing a room in August, then just a house and now we're hundreds of miles apart. Potentially next year I'll have Britain to myself and Steve'll be drumming for Josh Homme in the desert as part of some artistically indulgent drug-rock cult. We don't really know where we'll be. Around probably.
Around sounds good to me!
---
Wardens is at the Assembly Roxy at 3:30pm until the 26th August.
The Best of McNeil and Pamphilon is at the Pleasance Dome on the 18th August at 11pm.
Find out more about McNeil & Pamphilon via www.mcneilandpamphilon.com