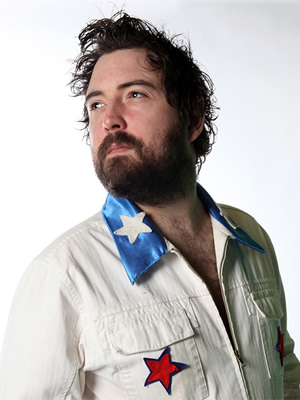 Comedian, writer, musician and poet Nick Helm is at Edinburgh Fringe with his new solo show One Man Mega Myth, whilst also preparing for extensive TV work. Lucy Anna Gray managed to find a spot in his busy schedule to talk to him about his comedy, Edinburgh and what's to come...
Hi Nick. How would you describe your stand-up?
When at its best it's quite silly, cathartic and I guess it used to be like an anti-whimsy act. Instead of going 'isn't everything great' I go 'isn't everything awful' then 'isn't everything amazing' at the end, which - in a way - is more uplifting. But how would I describe my act? Just shouty and sweary.
What is One Man Mega Myth about?
Well, I've had to cut a lot of it because it was overrunning, so I don't know if it's still about this anymore... but what it was originally about was the dangers of pursuing fame at the costs of friends, family and yourself; your own safety and health. How fame affects you as you chase this quite ugly dream of being rich, famous and successful.
I use Evel Knievel as a metaphor, as he was someone who actually used to endanger himself for the entertainment of the audience, and also for financial gain. He'd literally break every bone in his body, but he'd get paid millions for it. It would take several months to recuperate and his family were all distraught, but he just kept doing it. So that's what it's all about; it's a cautionary tale. I try and give enough information for the audience to make their own mind up about what it could be about.
Has what you're warning people about happened to you personally?
No not really, but I've seen other people. You hear things and see things that happen to other people... but this is probably the most autobiographical of all my shows. Although I'm not really like that, I'm quite normal. It's just that over the year various elements to the show have happened in my life.
Where did the title One Man Mega Myth come from?
It's called One Man Mega Myth because I don't have a band anymore. My band have left me, my friends have left me, all I've got is this thing... this show. I'm all on my own. I'm trying to be famous, this mythical creation, like Evel Knievel, or someone who is just in denial of who they are. So fake tan, highlighted hair, girdle and a codpiece. As the show goes on all of these elements are stripped away. It's all just about me trying to deny who I really am in order to become this mythical creation and I come out, sing a song about how amazing I am, and then it all just crumbles.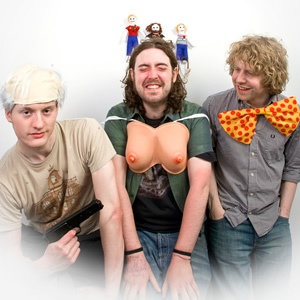 How many years have you been performing at the festival?
I've done every year since 1997, except for 3 various years. When you start doing comedy you get so swept away with it... All of a sudden you're doing stuff with Laughing Horse and also some stuff with PBH. Then I think things like, 'I'm shit at compering', so I learnt how to compere. I wasn't ever hyper confident or hyper careerist, it was more like, 'Oh I'll just go along and see what it's like!'
One of the shows I did in 2009 was Acaster, Helm and Widdicombe [with James Acaster and Josh Widdicombe] (pictured), that was pretty... memorable. It was the shittest show anyone's ever seen. It was amazingly shit. The venue was awful, we never had any audiences and it was just really depressing. We got one review and it was a 1 star review. What's amazing about that is that we all went on the have quite successful careers using the exact same material. It's crazy when you put the same material that has been very successful for all of us, in that venue, at that time slot, in that area of town, turns it into a one star pile of shit.
Every year is like my last year. Then the next year I think, 'I haven't tried that yet, I'll give it a go.'
Did you choose 4 o'clock as your Edinburgh time slot?
I've done 4 o'clock since about 2009. No one's drunk and everyone gets it. I did Nick Helm: Dare to Dream in 2011 and it got nominated, so I did extra shows at midnight. The difference between the 4 o'clock show and the midnight show was horrific. At midnight everyone was absolutely shitfaced, people were pissing in cups before they came into the building.
I could deal with the heckling, but it was the constant level of ignorance and sheer abuse that I couldn't handle. I had to keep stopping the show and was thinking, 'I've got a poem coming up which is totally reliant on three minutes of silence and a punch line.' Then it kicked off and there was almost a fight; someone threw beer over me and security had to come in to sort it all out. When I have a sober audience, people can see how silly it is. When people are drunk, it's just a shouting contest.
How has Edinburgh gone this year?
Well the 4 o'clock slot has been good. I spend the morning getting ready for the show, do the show and afterwards I can kind of relax.
Audience wise it's been going well this year. It's the biggest venue I've had. In 2011 I did the Pleasance which was exciting, because the Pleasance is kind of where you come to see comedy, and that was an 80 seater. Last year we did a 160 seater, and now this year is 250. You can see it stepping up. 2 years ago I hosted the press launch, and two years later I closed it. It's not through anything really, just more and more people enjoying what I'm doing. It's really great.
How is it not having your band with you this year?
I really miss them. I've hardly seen David Trent at all this year, but good luck to him. What was really nice, was last year when we did This Means War I had three of my best friends with me. We'd all have a hug before. I get so nervous, it's horrific. So last year I'd get a hug from all the lads, then go on stage and call someone a cunt.
This year I'm literally stood on my own round the back, and I've got no contact with anyone. So yeah I really miss that, but then I guess what I'm going through is what most comedians do all the time. David Trent got nominated last year and he thinks he's fucking brilliant. He'll come running back... Pat Burtscher is in Canada... being a dick. And Chris Boyd is in London. He spent all of his money on a holiday this year. All of that aside, I think we're doing some stuff in September.
How important is Edinburgh in the UK comedy scene?
It all depends what you want to do and what you want to get out of it. You don't need to do Edinburgh to be successful or to get anywhere, and for a lot of people it's a waste of money, and that's not because of ability. I gave up expecting anything out of Edinburgh, so I just did it because I enjoyed doing it. I'd work in a pub all year and I'd save all of my money, and at the end of July I'd go up to Edinburgh and do a show with my friends. I think that's the most important thing about Edinburgh; you do it because you love doing it, you do it for reasons like learning how to compare and improving yourself.
When you get to a certain stage in your career you become kind of 'bullet proof'. You've built up an armour so that you've got all of these different abilities. You can do 5, 10, 20 minute slots, you have a radio edit, you can open and close a show. You learn all of these things at Edinburgh. Pushing yourself in all different directions is fun. Also you get more and more confident the more gigs you do. More often than not people do Edinburgh for the wrong reasons, they do it to become successful. I had a really successful year in 2009, and now it's four years later and it is finally working out. It's not about coming up with one good show and that's it, it's about 5, 6, 7, 8 good years. Edinburgh is 100% the making of me.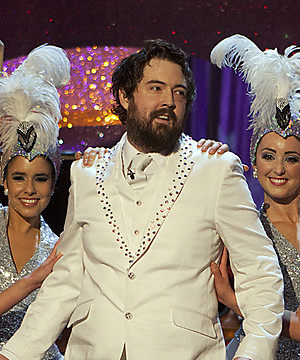 What's your plan after the festival?
I did a pilot called Uncle in November last year, so that became a series. It was on Channel 4 and now it's going over to BBC Three. We'll be filming Uncle from late September to November, so in the space of early September I'll be writing all of the songs for Uncle.
I also did an online pilot of Heavy Entertainment (pictured) for BBC Three and it has now been commissioned, so I'll be doing a series of that. We film that next May and should be aired in August.
Plus I've got to write a pilot for Channel 4, for The Nick Helm Sitcom. Although it seems perfect for me, I didn't write Uncle, so that's why I'm doing The Nick Helm Sitcom. Oh yeah and I want to do another album. So that's the next year planned out. It's going to be quite busy...
Does that mean you won't be coming to Edinburgh next year?
If I have it my way I would do a week of greatest hits. I would get the tiniest venue available and I'd do a Def Leppard concert for a week. Basically a live version of my album. That way I don't have to write it, but I still get to perform and be up in Edinburgh. It would be a lot less stressful! Then the year after that I know what I want to do... I did a musical in 2008 called I Think You Stink and that's my favourite thing I've ever done. It was 45 minutes and I'd like to expand it to an hour, throw a lot of money at it and make it into this huge thing. Then I can have a bit of fun and make an album out of it too. Out of everything, the album has definitely been the most satisfying thing I've done.
One Man Mega Myth is at the Pleasance Courtyard until the 26th August. Listing