Simon Evans
Simon Evans: Friendly Fire
Stand-up
9:30pm (1 hour)
1-12 & 14-26 Aug 2012
11 - 12
This is a 2012 show that has now finished.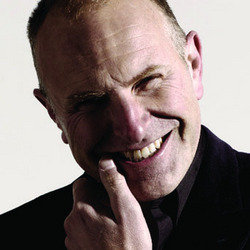 Show details
Stand-up show starring Simon Evans performed on the following days in August 2012...
Mon
Tue
Wed
Thu
Fri
Sat
Sun
01
2
3
4
5
6
7
8
9
10
11
12
13
14
15
16
17
18
19
20
21
22
23
24
25
26
27
28
29
30
31
Venue details
Featured on Michael McIntyre's Roadshow, Mock the Week and Radio 4. 'Sizzlingly entertaining ... Beautifully crafted devastatingly funny gags ... Deliciously haughty contempt.' (Guardian). 'Sardonic wit dripping disdain from every perfectly pronounced word' (Chortle.co.uk). www.offthekerb.co.uk
Share this show
Reviews
Press coverage
Full press release
Simon Evans is a true and fearless iconoclast. No-one is safe from the perceptive gaze of his tiny, tiny eyes. But even as Hans Christian A is carefully and patiently dismantled for your amusement, Evans acknowledges the power of a good story to frame events to the teller's benefit, and to shape the consciousness of an entire nation, not to mention his own all-too-briefly malleable children.
Evans is aware of the outrageous, clearly nonsensical and let's be honest AMERICAN STYLE narratives pedaled to his children, by everyone from Big Toy to his own wife*.
He is determined to fight back. But how should he develop the arsenal to do so? How can he make his heroes - the likes of Shackleton and Scott - compete for his son's attention with Spiderman, or even Terry and Rooney? How can he make Gibbon's Decline and Fall of the Roman Empire really live for an eight year old girl who thinks that Avril Lavigne's Sk8er-Boi constitutes a satisfying narrative?
These things matter. Because Life is not a spectator sport.
And nor is football.
*Yes. Big Toy is a thing.
---
Tweets by TheSimonEvans