Norwegians of Comedy
Norwegians of Comedy
Stand-up
6:20pm (1 hour)
4-19 Aug 2012
Free
This is a 2012 show that has now finished.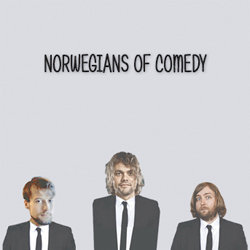 Mon
Tue
Wed
Thu
Fri
Sat
Sun
01
2
3
4
5
6
7
8
9
10
11
12
13
14
15
16
17
18
19
20
21
22
23
24
25
26
27
28
29
30
31
Venue details
Original and inventive stand-up comedy from Norway. Multi award-winning comedians Martin, Lars and Adam bring their critically acclaimed stand-up to the Fringe. It's free, and funnier than the last time Norwegians invaded Scotland. Norwegians of comedy is an hour with comics Martin Beyer-Olsen, Lars Berrum, and Adam T. These guys have years of stand-up experience and from work on Norwegian radio and TV. Comics with a refreshing style that will floor you with laughter! Award-winning. Young. Tall. Absurd. Riotously funny. Are these words arousing any interest in you? If yes, come see this.
Share this show
Reviews
Full press release
Norwegian absurdists finally hit the Edinburgh festival! Multi award-winning comedians Martin Beyer-Olsen, Lars Berrum and Adam Tumidajewicz bring their critically acclaimed stand-up to the Fringe.
Norwegians of Comedy isn't just any random free gig on the fringes of the Fringe. It's a wholesome, thoroughbred stand-up show from three of Norway's most creative comics with courage to take on the less traveled avenues of the art.
Back in Norway they're busy comedy bees. In addition to a lot of standup touring, they have their own radio show and webseries on Norway's BBC (Lars), a castmember on the Norwegian SNL, and recently awarded Norwegian comic of the year (Martin), AND the knowledge of a master's degree written on the subject (Adam).
Norwegians of Comedy adheres to the traditions of the art - it's guys with microphones, but their presence on stage and what they can make funny will surprise even the most seasoned of Fringe audiences. It's wackily subversive, abstract but logical, dumb yet profound.
The show is part of the PBH Free Fringe and takes place in a gay bar off Picardy place. Modest, sure, but arguably the one show at the fringe that gives you the most bang per buck!
In addition, these comics are initiators of Crap Åppå Park in Oslo, an alternative comedy festival that has taken successful responsibility to bring over names like Todd Barry, Paul Foot, Reggie Watts, Robin Ince and many other big acts in international comedy to Norway's capital. If using the word avantgarde about yourself ever was a good idea, it might just be in this case.
"These twats are flying the flag for alternative comedy in Norway. Don't let their impeccable English deter you. Friendliest wankers you'll ever meet. Brilliant. Funny bones." - Tony Law
"Hilarious and charming. They're so funny, they must be killed!" - Scott Capurro
"Whenever I laugh at a Norwegian comic, nine times out of ten it's one of these guys" - Dag Sørås
@MartinBeyerOls // @Larsberrum // @StortSettVitti
Credits