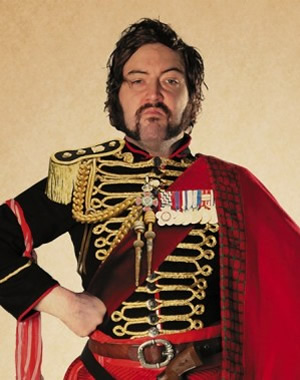 Nick Helm's 2011 Edinburgh show, the excellent Dare to Dream was nominated for the Foster's Comedy Award and led on to several TV appearances, including Live At The Electric, 8 Out Of 10 Cats, Russell Howard's Good News and Deal or No Deal with Jimmy Carr. Jane Perrin met up with Helm to find out more...
Helm's current show - This Means War - has a rousing full-on opening, and is all the better for it. But even that seems lukewarm compared to the ending. I'd describe the show overall as 'a tactical assault on your senses, and full out war on your funny bone'. Best enjoyed if you just surrender to Helm's battle-scarred world, an hour's visit is a blast. If the A Team had wanted another member to lighten the mood, they'd have recruited General Helm.
OK enough with the war references, just do right by him and he'll make sure you get through the experience unscathed and with the bonus of a few of his award-winning jokes to take away with you (he won Dave's Joke of the Fringe award last year). I met a much calmer Nick after the show and discovered he's more of a lover (of comedy) than a fighter. (Sorry, it's hard to stop with the war puns once you've started.)

Your band played out each episode of BBC Three's Live At The Electric. How was that experience for you?
It was really good. Quite a lot of my songs weren't suitable as they related specifically to previous shows, so I wrote some new ones. That meant the first time we did them was in front of a TV studio audience, which was weird. I'm not sure they really knew what to make of us, but it worked quite well on telly because people got to know us over the weeks.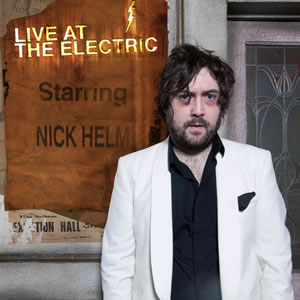 Did that programme change audiences' expectations of you?
Yeah it helped a lot in preparing them for what I do. Last year people didn't really know me. So they might have heard that my show was worth seeing, but when they came along it wasn't necessarily what they were expecting. Some of them found it scary, which isn't the point of what I do at all. It's just really silly.
This year they're on board straight away so I could start as I mean to go on and hit the ground running.
What are your plans for the year ahead?
There have been lots of meetings but nothing's confirmed yet and I've been focusing on this Edinburgh show. In September we'll sift through all the emails. Or see what's left over from last year. Whatever I do, I want to do it as well as I can.
Like I really enjoyed doing my Comedy Blaps this year. That was the most fun actually and exciting because it was my first opportunity to see what I could do in a televisual context. And they came out better than I could have hoped for.
So what would be your ideal TV show?
Ideally I'd write some sort of sketch/sitcom/musical format that hasn't been done before. Not to tread on the toes of Flight of the Conchords or anything like that. I just want to find a way to translate what I do on stage, including the poems and all the other bits, to telly, rather than just filming live shows. That's what I loved about the Blaps. It was totally me but it was me in a different format.
As someone who's just starting to have a go at stand-up myself I wondered if you had any advice for aspiring comedians?
I think it gets to a stage when you've probably written enough material and you should stop. Well that's what I did. I had a lot already and kept writing more but I wasn't actually getting any better. So I just spent six months developing my act and learning how to deliver what I already had. That's when I found my voice and everything else fell into place.
By then I also had the sub-plot of my emotional journey which I think the audience go on with me. At the same time it's like a variety show and that's what I do. But it took time to work out that's what I do and to identify my strengths and weaknesses. For example, there are people out there who do anecdotes better than me. So I'd say find your own strengths and play up to them and cut out the weaker bits as much as possible.
What's a typical day for you in Edinburgh?
I actually get really stressed out about getting my hour done so I don't really do a lot else. I'm constantly running through lines and the order of things in my head and trying to conserve my energy. The show takes a lot out of my body and voice. Then I get the buzz of adrenalin on stage but it's a kind of fake energy. So I actually feel more awake now I've just done it, but then I'll be shattered later.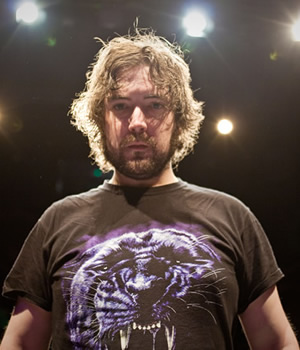 Your voice does take a beating in your act. How do you look after it?
Everyone has a different tip about that. Tom Parry from Pappy's told me a thing that Greg Davies had passed on to him that Rhod Gilbert had told him so it's passed down from comedian to comedian.
But I don't think there's a magic cure, other than to rest it and try to sing rather than shout. I noticed recently that the band was playing faster and I was finding it hard to sing and breathe at the same time. You get excited. I did have some vocal training but that goes out of the window when I'm on stage. I'd hoped to do more but with constantly looming deadlines it's not happened yet. As soon as you finish one show here you're thinking about the next one and all the projects in between.
Could you tell me a little about your on-stage persona and how that developed?
Before I even started stand-up I thought I'd like to do it, as if I'd just had some really bad news and had to entertain people. But I didn't actually use that in my stand-up for a couple of years as it was out of my reach then. Eventually it came back to me and it all made sense.
Now it's more like I've had a terrible year and bad things are happening constantly and I'm just trying to be a professional and do a show, but I can't because I'm the worst person at it. It's meant to be a good, upbeat, happy show but the audience are coming to see me during this awful year.
I understand your first experience in Edinburgh was as part of a school play and that you went on to write your own plays before moving on to stand-up. Do you structure your show in a similar way to a play?
Yes, this is my 13th year and my 18th show in total. Stand-up is enough for me now. The plays were comedies too but the audiences were very different. I wrote one which was always a struggle: sometimes the theatre audiences would be on board and sometimes it would play to silence.
But then a couple of years later we did the same play in a pub which had more of a comedy audience, and it really took off and was fun. I think that in theatre the audience are perhaps observing more but at a comedy gig they're looking for laughs.
I still use that three act structure now. I have an idea for a show. It falters. There's a big finish. I spend as much time working out the structure as I do the material. I don't want it to be a direct copy of the year before so there has to be enough new elements to keep it fresh.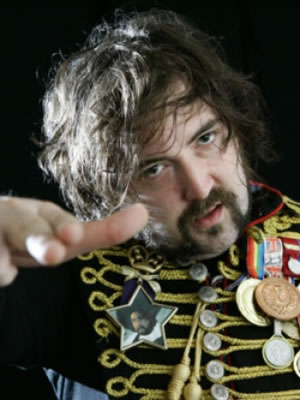 What's the theme of This Means War?
I said early on it was going to be 'epically romantic' and I've stuck with that as the main element. I originally wanted to do a West End musical but it's ended up more like a Status Quo concert.
You always have an amazing vision in your head of a show and you're always trying to get as close to that as possible. The reality can never be exactly the same and sometimes it's better, sometimes it's worse. But at some point during the process you've just got to say this is it now and work out how to make it the best possible show that you can.
Talk me through your pre-show song choices...
Iron Maiden - Run to the Hills: This is the kind of British rock 'n' roll that we're trying to do in the show.
Alice Cooper - I'm Your Gun: I think he's amazing and I always use one of his songs.
AC/DC - Big Gun: This gets the audience in the right mood.
Kiss - Love Gun: And not just because it has the word 'gun' in the title.
You could say it's a bit of a 'Gun show'! OK, moving on - who's in your band?
In this show it's David Trent (Army), Christopher Boyd (Navy) and Pat Burtscher (Air Force). All three have their own shows up here too, which is great. But it's a kind of a rolling band, although Christopher has been with me for two years now and David for about 18 months.
Would you ever swap comedy for music?
Not permanently - although we did Latitude last year. It was fun putting a 30 minute set together but the actual gig was difficult because of technical problems.
I've done a lot of music in the past year and I'm in danger of becoming known as a musical act which is not something I've ever seen myself as. It's just incorporated into the whole show.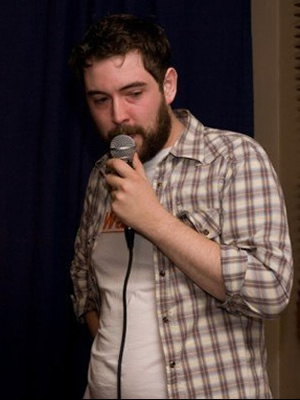 So did you start out with straight stand-up?
Yes, and one night I was supposed to do a 20 minute gig but only had 15 so I added a song. That went really well, so I did another one etc. But in my theatre shows I always had songs, and poetry too which I love. I'm not a musician or a comedian or a poet or anything really - I just love it all and if I think I can do something well enough I'll put it in the show.
After your 13 years and 18 shows you're now becoming an overnight success. With all the opportunities that brings are you able to steer the direction your career is going, or is it more a case of making the most of whatever comes up?
It's a bit of both. I'm kind of new to it all and when I'm offered something I just think 'Will I enjoy it?' And 'Should I at least give it a go?' So I did 8 Out Of 10 Cats knowing that if I didn't enjoy it I'd never have to do a panel show again.
And did you enjoy it?
I think it came out really well. David O'Doherty was there and it was lovely to work with him. Jimmy Carr was really professional and kind and he just comes up to you and says 'You're the new guy. Don't feel like you've got to push in. I'll come to you and you'll get your moment to talk'. He didn't have to do that but he did.
It's still stressful though as you're introducing yourself to a new audience and they didn't really laugh at first but then they got into it and they were very kind in the edit and want to make you look good.
Are there other shows you'd like to be on now?
I do it on a gig by gig basis. I don't have any wish fulfilment thing. I'd just consider anything that came up.
You seem more relaxed this year - are you enjoying the show more?
I love the show and I am a lot happier this year. Last year I was ill and it was such a dark show, it was physically and emotionally exhausting. This year it's still physical but less emotional. Despite the title, it's lighter and the audiences are up for it more.
In the show, you mention a romantic comedy that 'on stage' Nick hates. If you were going to make your date watch a typical bloke's film what would it be?
I would see whatever she wants, but moan about it afterwards. But I like all film genres if the film is well made. When Harry Met Sally is one of my favourite films and I really like Sleepless in Seattle and Pretty Woman, but it's got to be good. Sliding Doors is an insult to its genre and they just don't make romantic comedies like they used to. Action films have gone the same way. They don't compare now to those made in the 1980s and 90s.
'Nick Helm: This Means War' is on at 5:30pm, the Pleasance Dome until 27th August. Listing