Wil Hodgson
Wil Hodgson
Stand-up
3:35pm (1 hour)
4-14 & 16-28 Aug 2011
8
This is a 2011 show that has now finished.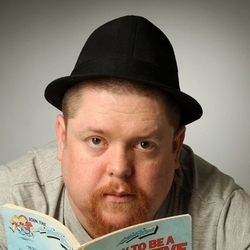 Show details
Stand-up show starring Wil Hodgson performed on the following days in August 2011...
Preview performance on 4th August at 15:30.
Mon
Tue
Wed
Thu
Fri
Sat
Sun
03
4
5
6
7
8
9
10
11
12
13
14
15
16
17
18
19
20
21
22
23
24
25
26
27
28
29
30
31
1
2
Venue details
What does breakfast cereal have to do with skinhead culture? Are Care Bears anarchists or communists? Why were Black Lace more punk than The Sex Pistols? All these questions and more will be answered by cult storyteller Wil Hodgson as heard on Radio 4 and seen on Russell Howard's Good News and Edinburgh And Beyond. 'Brilliantly written, phenomenally well-observed stories' (Guardian). 'This is punk rock, this is how it should be' (Mark Thomas). 'Genius' (Russell Howard). 'A passionate diatribe by a man genuinely enthusiastic about his subjects' (Chortle.co.uk). 'A sort of cultural lay preacher' (BroadwayBaby.com).
Share this show
Reviews
Press coverage
Full press release
The former winner of the Perrier Best Newcomer Award returns for his eighth solo show, but this time stripped back and bare, bringing the self-titled Wil Hodgson to the Stand.
The show is a refreshing return to Wil's glory days of pure, monologue-esque stand up rather than the story telling adventures of recent Fringe shows. It's a personal account of what life is like for everyone's favourite Care Bear loving, retro-obsessive, ex wrestling West Country pink punk comic.
This show showcases Wil's unique worldview through the eyes of a Care Bear collecting tattooed punk. Wil discusses a variety of subjects including his love of the great British youth cults of the past, including mods, skinheads and soul boys. In particular Wil gives us his unique personal take on punk rock from falling in love with it as an alienated, bullied teenager to what it means to him today and how it is far more than just music. Having been recently appointed godfather of his friend's daughter, Wil ponders whether he has, or ever will "grow up" and how different he really is to the awkward seven year old in a Spider-Man t-shirt.
Winning the Perrier Best Newcomer Award seven years ago converted Wil into a firm favourite with comedians and audiences alike. He was rapidly renowned as one of the most original comics on the circuit and soon became a regular at all the major comedy clubs in Britain. He has supported Ian Cognito and Mark Thomas on tour, performed at the Melbourne International Comedy Festival, played druid festivals, punk festivals and music festivals, appeared on The Salon and The Morning After Show] (both for Channel 4), Stand Up Britain (ITV), Edinburgh and Beyond (Paramount) and most recently Russell Howard's Good News (BBC3) and has featured on various radio programmes from Political Animal to The Milk Run (both for BBC Radio).
Biography

Bath born Wil Hodgson has lived in Chippenham his whole life and began performing comedy in 2003.

Hodgson is known for his monotone delivery which along with his bizarre persona has been known to divide audiences. He was also known until recently for his bright pink hair and his love of 1980s girl's toys such as Care Bears and My Little Pony.
In 2004 he won a Perrier Award for Best Newcomer at the Edinburgh Fringe. He supported Ian Cognito on his national tour in 2005 and began his own national tour in January 2007. He supported Mark Thomas on some dates of his It's The Stupid Economy Tour.
In December of 2010, Hodgson filmed a cameo appearance in the forthcoming independent feature film, What Happened After Macbeth; due out 2011.