Christmas For Two interview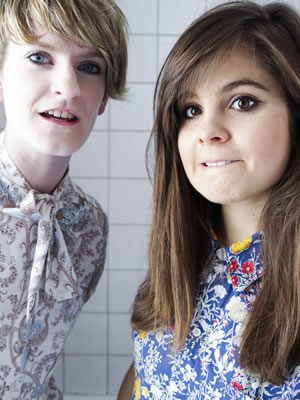 Christmas For Two are BBC7 New Talent winner Sarah Campbell and Footlights alumni Amy Hoggart. They met when they were both asked to write for and act in BBC3's Laughter Shock. Challenged to write material as shocking as they could, they found their material was considered too edgy for the programme... cue Friends With You, their debut hour at the Fringe. Lucy Wood finds out more...
What's the idea behind your name?
We believe it was inspired by an amazing Christmas jumper Sarah had. She had named it Christmas On Brookside. We like our name cos it's a bit weird, like our comedy, but also warm and nice.
Amy: It's not too weird. Christmas is not for two people, who thinks like that? Who are these people?!
How do you feel about debuting your first show?
Caffeinated and high on sugar.
Is it better working as a pair rather than alone?
Better! More variety because we're both very different writers. The drawbacks are Sarah making Amy work through naptime, and Amy napping through naptime.
How do you agree on what material goes in?
What gets the most laughs and is most fun for us to perform.
What's the best - and worst - aspects of working with live audiences?
Best - Unpredictability.
Worst - Unpredictability.
How would you describe your show to someone on the Royal Mile?
Big Top dreamz comedy with sexy panpipes and an edible conclusion.
So tell us your favourite joke...
Oh you wanna hear a joke do you?? Your Auntie Marie!!!! She's a total joke!!!! *Pyrotechnics go off*
Christmas For Two is on at Just the Tonic at the Caves at 4:55pm every day. Listing