Christmas For Two
Christmas For Two: Friends With You
Sketch show
4:55pm (1 hour)
4-16 & 18-28 Aug 2011
6.50
This is a 2011 show that has now finished.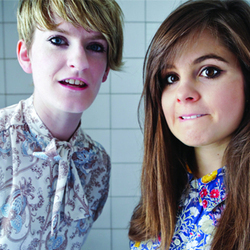 Mon
Tue
Wed
Thu
Fri
Sat
Sun
03
4
5
6
7
8
9
10
11
12
13
14
15
16
17
18
19
20
21
22
23
24
25
26
27
28
29
30
31
1
2
Venue details
Breakthrough stars of BBC Comedy Online and BBC Three bring you elegantly odd mega jokes. Christmas for Two are BBC7 New Talent Winner Sarah Campbell and Amy Hoggart, twisted wunderkid and star of BBC Three's Laughter Shock. Panpipe moods, sweet but appalling characters and sketches that stroke bits of your brain you were trying to ignore. Charming, inappropriate and sexypots. Thanks so much bye. List Magazine's Ones To Watch 2011. 'Hugely talented' (Time Out), 'Very funny' (Guardian), 'Smart and sassy' **** (List), 'Abundant freshness and charm' **** (Skinny).
Share this show
Reviews
Press coverage
Full press release
Christmas For Two are BBC7 New Talent winner Sarah Campbell and Footlights alumni Amy Hoggart. They met when they were both asked to write for and act in BBC Three's Laughter Shock. Challenged to write material as shocking as they could, they found their material was considered too edgy for the programme...
"I got touched up on the bus once by a stranger, but to be honest it just opened me up sexually really. We've been great friends ever since."
In their debut hour at the Edinburgh Fringe, Christmas For Two bring you a delightfully uncensored hour of elegantly odd megajokes.
This scarily talented twosome bring tales of distinctly disturbing job vacancies, Ibiza club reps at breaking point, and Fish Monday. Twisted yet silly, Christmas For Two create a mélange of the absurd, and the hyperreal resulting in sweet but appalling characters and sketches that stroke bits of your brain you were trying to ignore.
"Fry up for me please! That's what gives me the strength to trade so well all day, so I can buy you nice things, and design you nighties."
2010 saw Amy and Sarah both writing and appearing in BBC Three's Laughter Shock and with short comic films already produced for of BBC Comedy Online, Christmas For Two are set for success.
"Are you in a couple? If you come to the Foam Party Carvery you are guaranteed you will not be in a couple by the end! Guaranteed you won't be!"
Their most recent filmed sketches, Weird Day at Work and Homemade Festival can be viewed at BBC Comedy Online or at their monthly sketch and character comedy night Comedy Back Rub, which they MC and perform at (plus give back rubs to audience members).
Sarah Campbell: After appearing as a finalist in national stand-up competition Funny Women in 2008, in 2009 Sarah's work beat almost a thousand submissions to win BBC7's national sketch-writing competition, 7 On 7. She founded the wildly successful comedy soiree The Cheese and Pineapple Club.
Amy Hoggart: In 2008 Amy received notable praise for her performance as part of the Footlights Edinburgh Festival show. She is also responsible for the alarming yet alluring creation that is Pattie Brewster.
Credits