Amused Moose Showcase
Amused Moose Comedy Awards Showcase
Stand-up
4pm (1 hour)
5-7, 10-14, 17-18, 20 & 24-27 Aug 2011
8.50
This is a 2011 show that has now finished.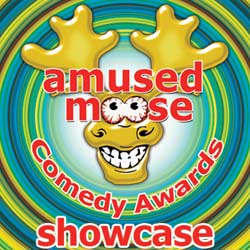 Mon
Tue
Wed
Thu
Fri
Sat
Sun
03
4
5
6
7
8
9
10
11
12
13
14
15
16
17
18
19
20
21
22
23
24
25
26
27
28
29
30
31
1
2
Venue details
Ten glorious years of brilliant, sell out, industry-endorsed Amused Moose Comedy's Showcases were probably where you first saw some of today's biggest names in comedy. So grab your hot tickets for splendid Amused Moose Laughter Awards and Amused Moose Laugh Off Showcases to talent spot this year's stellar crop of discoveries. Come back time and again to enjoy the changing variety of stand-up and Fringe show segments, sometimes featuring past Amused Moose hot starlets who are now rather famous.
Share this show
Full press release
Friday 5th: Ian Smith, Tom Deacon, Nathan Caton, Romesh Ranganathan, Joey Page, Carly Smallman, Max Dowler.
Saturday 6th: Chris Martin, Imran Yusuf, Rob Beckett, Naz Osmanoglu, Jay Foreman, Kate Lucas, Guy Manners.
Sunday 7th: Caroline Mabey, Markus Birdman, Stephen Carlin, Luke Benson, Alex Marion, Katherine Ryan, Jim Elliott.
Wednesday 10th: Danny Ward, Chris McCausland, Joe Bor, Rosie Wilby, Moonfish Rhumba, Matt Giffin, Laura Carr.
Thursday 11th: Matt Rudge, Stuart Goldsmith, Ava Vidal, Paul McCaffrey, Paul Duncan McGarrity, Horse & Louis, Lauren Shearing.
Friday 12th: Liam Speirs, John Lynn, Matt Kirshen, Sam Gore, Pearse James, McNeil & Pamphilon, Kieran Boyde.
Saturday 13th: Matt Green, Gareth Richards, Alexis Dubus, Kerry Godliman, Jim Campbell, Jessica Fostekew, Sunna Jarman.
Sunday 14th: Simon Feilder, Zoe Lyons, Josh Widdicombe, Maff Brown, Helen Arney, Will Howells, James Gill.
Wednesday 17th: Line-up TBC. Will include Angela Barnes, Ed Caruana, Jason John Whitehead.
18th/20th/24th/25th/26th/27th: Line-up TBC. Will include Lara A King, Ger Devine, Tom Rosenthal, Joe Lycett.
---
Credits
Tweets by AmusedMoose