Dan Antopolski
Dan Antopolski - Turn Of The Century
Stand-up
8pm (1 hour)
5-30 Aug 2010
9.50 - 10.50
This is a 2010 show that has now finished.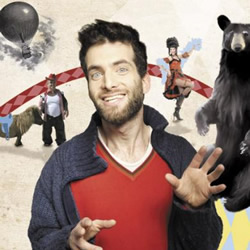 Mon
Tue
Wed
Thu
Fri
Sat
Sun
1
2
3
4
5
6
7
8
9
10
11
12
13
14
15
16
17
18
19
20
21
22
23
24
25
26
27
28
29
30
31
Venue details
Who's the comic with an ear for dialogue and a bod for sin? Triple Perrier Award nominee, veteran Fringe sell-out and winner of the 2009 Dave Award for 'funniest joke of the Fringe' Dan Antopolski presents his seventh solo stand-up show. Jokes? Yes sir. Raps? Almost certainly. Fun? You bet your mum it will be fun.
Share this page
Reviews
Press coverage
Full press release
Who's the comic with an ear for dialogue and a bod for sin? Damn right it's Triple Perrier Award Nominee, veteran Fringe sell-out and Winner of the 2009 Dave Award for Funniest Joke of the Fringe Dan Antopolski with his seventh solo stand-up show. What can we expect from this tireless fringe innovator, elegant paragraph-crafter and award-winning one-liner merchant? Why not expect the unexpected and neglect to prepare for the expected which will then surprise you from behind, unless you have read this - or like Dan Antopolski, have mastered time travel!!!
Turn of the Century will definitely contain many high-quality stealable one-liners, sage remarks about life and bad-parenthood, a rap about the benefits of laser ownership - and new for 2010, the pitiless subordination of a professional manservant. Also as promised, actual time travel (forwards@1sec/sec)!
Dan Antopolski won the BBC New Comedy Award in 1998, was nominated for the Perrier Best Newcomer Award in 2000 and for the Perrier Award in 2001. He also shared a Perrier Award nomination with Lee Mack and Catherine Tate for sketch show Lee Mack's New Bits. He formed The Dinks with Craig Campbell and Tony Law, played Jeffers in two series of BBC Two's Hyperdrive and Jesus in Hollywood blockbuster The Da Vinci Code. His many radio and TV credits also include six series of BBC Radio 2's Out To Lunch and three series of ITV2's Comedy Cuts and he co-starred with Karl Theobald in sitcom Exterminating Angels on BBC Radio 4 and in Moonmonkeys on BBC Three.
In 2004 Dan took up making minature versions of himself. He has made two so far which are perfect replicas including their lack of willies. By 2008 he judged that they could fend for themselves, so he returned to Edinburgh with the acclaimed Dan Antopolski's Penetrating Gaze, containing the Sandwich Rap that became a YouTube hit video. Dan's 2009 show Silent but Deadly received numerous rave reviews and won Funniest Joke of the Fringe with his joke "Hedgehogs. Why can't they just share the hedge?" In the spring of 2010 Dan embarked on his first national tour with Silent But Deadly and he will be doing a new 40-date tour this autumn with Turn Of The Century.