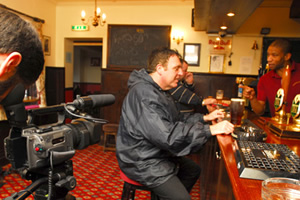 The Limelight is a feature film that was based on an original script called Tears of a Clown by comedian and writer Glen Maney.
He wrote it after witnessing a comedian who had had experienced the death of a parent, the loss of a day job and the break-up with a girlfriend (who ran off with another comedian) - all in the space of 72 hours - put aside his depression to get up on stage and make people laugh, before resuming his depression after the show.
Maney sold the option to the script in 2001 but when the production company couldn't raise the required £2 million pounds they wanted to make the film the option wasn't taken up, and Maney had the script and rights returned to him in 2004.
With the encouragement of fellow comedians such as Ricky Grover and film makers and friends Paul Anthony Long and Stephen Hammal, Maney decided to take a leap of faith and make a film of the script himself, with the support of those friends.
After much planning it was decided that, because of his busy work schedule and other filming commitments, Ricky Grover would play Al Moran (The greedy comedy agent character) instead of Gary Shand, the lead role that he was originally cast for.
An open casting was held to find someone to play the lead but reportedly no one who attended really captured the essence of the ageing struggling comedian who was fighting depression, alcohol dependency, schizophrenia and a marriage break-up. As a result it was suggested by both Grover and Hammal that, as Maney knew the character of Gary Shand better than anyone else, he should take the role.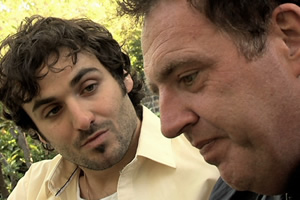 Comedians and friends of Maney since his early days in comedy, Patrick Monahan (Winner of Show Me The Funny, pictured) and Jay Sodagar, agreed to join the cast as Sean Bollinger and stereotypical landlord Mr Ali respectively.
John Robson, who had overseen several promotional music films and was also a friend of Maney, was brought on board at the eleventh hour to help Maney complete the project. The film had a budget of £30,000 (from Maney's own earnings), £1,500 from Screen South, and some finance from friends and family.
On the 5th February 2006 the first scenes were shot at the Comedy Cafe in London. John Robson persuaded friends Mark Monero, Craig Campbell and Phil Nichol to become involved and also recruited Ricky Stanbridge and The Almighty Chancers for the soundtrack.
Sonya Roseman was cast as former escort and love interest Sara Meo and Amanda Williamson, who Glen had worked with before, came onboard as Gary Shand's estranged and long suffering wife Linda.
Again, an open casting didn't really provide the actor and actress needed to play Gary Shand's children, so Glen's own children Laura and Nicholas were signed up.

Scenes were shot as and when funds and cast were available, and it took five years in total for the project to reach a conclusion.
The creators say: "We believe that we've produced a black comedy that could reach cult status if the plaudits continue to arrive along the lines of those that we have already."
"We have sweated tears, and John in particular has learned many new skills in order to get this project to the screen. Early signs are that it's been a worthwhile journey as everyone who has seen the private screenings agree. The Limelight will make you cry but will also make you laugh and make you laugh like you haven't for a long, long time. Enjoy."