Steve Coogan to play porn publisher in new film
Steve Coogan to play porn publisher in new film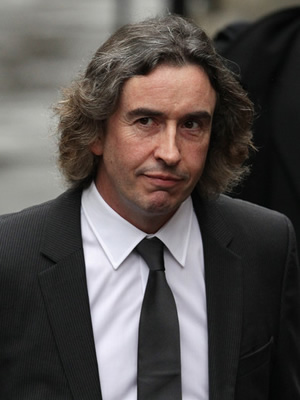 Film4 has announced that Steve Coogan will play the lead role in its new comedy drama about the personal life of renowned club proprietor and porn publisher Paul Raymond.
The King Of Soho will see Coogan reunite with Michael Winterbottom, the director who has previously collaborated with him on 24 Hour Party People, A Cock And Bull Story and the BBC Two series The Trip.
In the new film Coogan will play the eponymous 'King of Soho', so dubbed by the press due to his huge club and property empire which, along with his porn business, amassed him a fortune.
After starting his showbusiness career as a mind-reader in a cabaret act, Paul Raymond went on to become Britain's richest man and a modern King Midas. With an entrepreneurial eye and a realisation that sex sells, he began building his empire of gentlemen's clubs, porn magazines and nude theatre - provoking outrage and titillation in equal measure.
Raymond's personal life was as colourful as his revue shows. His marriage to Jean, a nude dancer and choreographer, ended in a difficult divorce when he met Fiona - a glamour model who became the famous pin-up star of his magazines and shows. His daughter Debbie was the true love of his life, his business partner and heir to his empire - until her tragic and untimely death aged 36 in the early 1990s. Three weeks later Raymond was named Britain's richest man and his fortune put at £1.5 billion. He died in 2008.
Anna Friel will play Jean in this new film, with Tamsin Egerton as his glamour model girlfriend Fiona, and Imogen Poots as his beloved daughter.
Michael Winterbottom says: "The King Of Soho chronicles the colourful life and times of Paul Raymond, who began his career on stage as an end-of-the-pier mind-reader and ended his life the richest man in Britain. It's the perfect role for Steve Coogan and it is great we have Anna Friel, Tamsin Egerton and Imogen Poots playing the three most important women in his life."
Steve Coogan adds: "I'm very excited to be working with Michael Winterbottom again. Like 24 Hour Party People, we want to capture the life of an extraordinary man living in extraordinary times."
The film, which will be produced by Melissa Parmenter (The Trip), and is funded by Film4, Revolution Films, STUDIOCANAL and Baby Cow Productions, will be released in 2013.
Film4's Katherine Butler comments: "Paul Raymond was a larger-than-life character and I can't think of a better combination of Matt, Michael and Steve, alongside an incredible line-up of British acting talent, to tell his extraordinary story. It's so exciting to be working once again with Michael, Revolution and our great friends at STUDIOCANAL, on a film which promises to channel the essence of Paul's life - flamboyant, unconventional, risqué, fun, and ultimately, bittersweet."
Steve Coogan is currently working on a second web series of Alan Partridge's Mid Morning Matters for Foster's, with the first run due to be packaged up and screened as a series on Sky Atlantic later this year.
The comedian also confirmed in an interview recently that he, Armando Iannucci and Peter Baynham were working on the script for an Alan Partridge film, with plans to shoot it later in the year for a 2013 release date. Talking about the plot, he cryptically told Vanity Fair "there's quite a large event in a small town. And Alan is not the protagonist. He's... an unwilling participant."
2012 looks set to be a busy year for Coogan, as a second series of The Trip, the BBC Two series in which he co-stars with Rob Brydon, is on the cards as well. He said: "This time the duo would be retracing the steps of Shelley and Byron, with all the attendant pompousness and portent."
Share this page