Shaun The Sheep movie confirmed
Shaun The Sheep movie confirmed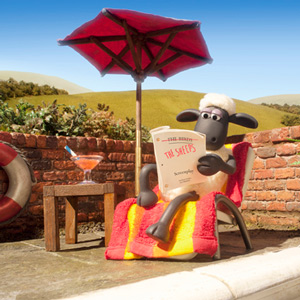 Bristol-based animation studio Aardman today announced that it has begun production on a Shaun The Sheep feature film.
The studio has signed a financing and distribution agreement with French media conglomerate StudioCanal for the project, which is currently known as simply Shaun The Sheep Movie.
A film script was revealed to be in development in January 2011, and Aardman confirmed today that they would be entering production for a planned cinema release in 2015. It has been written and will be directed by Mark Burton and Richard Starzak.
Renowned animator Starzak, also known as Richard 'Golly' Goleszowski, created the original Shaun The Sheep childrens' TV series based upon the silent sheep, Shaun, who featured in Nick Park's celebrated 1995 Wallace & Gromit adventure, A Close Shave.
Starzak wrote and directed a number of episodes of the programme, and is also the creative mind behind Aardman's 1998 sitcom, Rex The Runt.
Company co-founder David Sproxton said today: "Shaun and his friends have a massive global following and we are very excited about being able to put them into a bigger adventure for the big screen. We are naturally also very excited about partnering with StudioCanal for this project, their track record and expertise in international film financing and distribution seems a perfect fit."
StudioCanal CEO Olivier Courson added: "We are so thrilled to join the Flock! Shaun is a character you love at first sight whatever your age. We are really happy to work with Aardman, it's such a talented team!"
The near-silent childrens' comedy series has been broadcast in nearly 200 countries to date. A 20-episode third series was recently shown on CBBC, having previously run for two 40-episode series within CBBC programming on BBC One. In total, 100 episodes circa 7 minutes in length have been broadcast since 2007.
Below is a short one minute sketch starring the woolly star:
Share this page