A 4-box set DVD bundle from Hat Trick
Win 4 complete comedy box sets from Hat Trick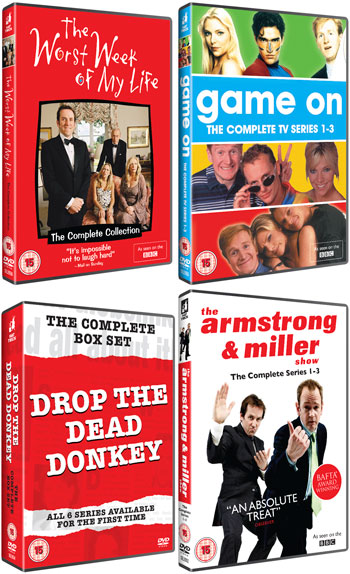 To mark the release of not one but four brand new complete comedy box sets - including, for the first time ever, all six series of Drop The Dead Donkey in one set - we've got copies to give away.
We've teamed up with the comedy supremos at Hat Trick Productions to offer not one but FIVE fabulous bundles of these 4 box sets: each containing every single episode of the respective series.
Extras across the four sets range from unaired pilots to cast and crew interviews, photo galleries, out-takes, series introductions and Comic Relief specials.
Covering 20 discs, the four sets are:
The Armstrong & Miller Show - All 3 series of the 2007 - 2010 BBC One sketch show starring Ben Miller and Alexander Armstrong. Details
Drop The Dead Donkey - Six series of the smash-hit Channel 4 satire set in the offices of TV's Globelink News. Details
Game On - Bernadette Davis & Andrew Davies's late-90s flatshare sitcom, featuring Samantha Womack, Matthew Cottle, Neil Stuke & Ben Chaplin. Details
The Worst Week Of My Life - 17 episodes of delicious farce starring Ben Miller and Sarah Alexander as a couple embarking on marriage. Details