Detectorists Series 2 DVD
Win a signed copy of Detectorists Series 2 on DVD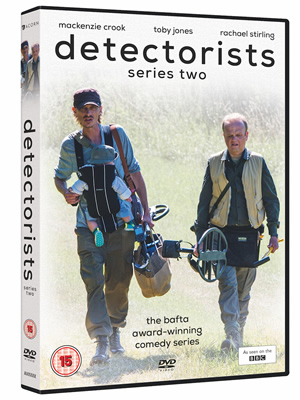 The second series of Mackenzie Crook's award-winning, critically-acclaimed comedy series Detectorists is now available on DVD (alongside a Series 1 & Series 2 box set).
Detectorists follows the adventures of best friends Andy (Crook) and Lance (Toby Jones) who share a passion for metal detecting and spend their time scouring the English countryside, hoping for the one rare find that could change their lives forever.
Series 1 boasted the biggest ratings BBC Four has ever had for a comedy and now Detectorists Series 2 is in the shops too, alongside the Detectorists Complete Series 1 and 2 box set.
The new series follows the pair one year on and Lance is still lovelorn after the departure of his ex-wife, but may be about to surprise everybody with a new and unexpected relationship.
Andy and his wife Becky are now parents, but despite qualifying as an archaeologist Andy is still unemployed and their shared hopes for the future look further off than ever - but Becky has a dream...
Meanwhile the Danebury Metal Detecting Club find themselves on a mission to track down a long-lost WWII bomber on behalf of a young German man who suddenly arrives in their midst - followed closely by 'Simon and Garfunkel'.
There may be new loves, new challenges and enemies old and new, but always there is the vision, always there is the dream of something that is waiting not too deep beneath the soil; something that will inspire the legendary Gold Dance.
The Series 2 DVD also contains the behind-the-scenes feature A Day Out With Detectorists.