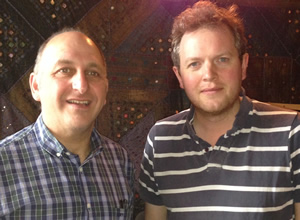 What Are You Laughing At?

The British Comedy Guide's own podcast, which talks in-depth to those who create comedy. What Are You Laughing At? is hosted by comedy writer and performer Dave Cohen - one of the founding Comedy Store Players, and latterly a contributor to shows such as Have I Got News For You, Horrible Histories and Not Going Out.

May 2014: The multi-talented Miles Jupp joins Dave Cohen to talk about his stand-up tour, acting in Rev, developing his radio and TV show In And Out Of The Kitchen, the writing process generally, cricket, how he uses Twitter without actually having an account, and more.
To download this podcast to your computer, right click on the link and choose 'save as'.
Date: 22nd May Length: 63 mins Size: 58.3mb Page
You can subscribe to this podcast series via iTunes software.
This is the geeky option. You can subscribe via the RSS feed:
http://feeds.feedburner.com/BritishComedyPodcast
Previous Episodes
Date: 14th April 2014 Length: 82 mins Size: 75.69mb

The British Comedy Guide's podcast is back! Chris Addison chats in-depth to Dave Cohen about his comedy career, including how he started in stand-up comedy, and his work ...... Listen
Date: 17th January 2013 Length: 71 mins Size: 65.84mb

In the first WAYLA? podcast of 2013, Dave Cohen and BCG editor Aaron Brown are joined by Sean Hughes. The comedian, novelist and actor is back on tour with ...... Listen
Date: 24th July 2012 Length: 72 mins Size: 66.78mb

We're back! After a busy few months, WAYLA? returns for more top-quality discussion about comedy - and now in a studio! In this show, host Dave Cohen is joined by activis...... Listen
Date: 5th April 2012 Length: 64 mins Size: 59.08mb

Dave Cohen and James Cary are joined by top script editor Andrew Ellard. Together they discuss ITV's latest moves back into the field of sitcom, and Andrew's impre...... Listen
Date: 24th February 2012 Length: 50 mins Size: 45.96mb

Dave Cohen and Tony Cowards are joined by TV's newest comedy duo, Lorna Watson and Ingrid Oliver. The girls - whose debut BBC Two sketch show Watson ...... Listen
Date: 21st January 2012 Length: 59 mins Size: 54.27mb

Happy new year! It's 2012, and What Are You Laughing At?: The British Comedy Podcast is back. Host Dave Cohen is once again joined by stand-up comedian Tony Cowards...... Listen
Date: 18th October 2011 Length: 62 mins Size: 57.19mb

This week, Dave and James are joined by Gina Yashere, famed for her appearances as Tanya in The Lenny Henry Show, but who left the UK for the Californian sun after feelin...... Listen
Date: 28th September 2011 Length: 71 mins Size: 65.14mb

Dave Cohen and Tony Cowards are joined by star guest Al Murray - aka the Pub Landlord. On the table today is the sad news of the death of sitcom supremo David C...... Listen
Date: 16th September 2011 Length: 67 mins Size: 60.86mb

Dave Cohen and James Cary are joined by Adrian Poynton, a stand-up comedian and writer of BBC Three's hit sitcom White Van Man. This episode will be of part...... Listen
Date: 27th August 2011 Length: 40 mins Size: 37mb

What Are You Laughing At? decamps to Edinburgh for a Fringe special. Dave Cohen is joined by the Queen of the Fringe herself, founder and Artistic Director of The Gilded ...... Listen
Date: 17th August 2011 Length: 41 mins Size: 38mb

Dave Cohen and Tony Cowards are joined by veteran comedy producer David Tyler, responsible for Another Case Of Milton Jones, Bigipedia and Cabin P...... Listen
Date: 6th July 2011 Length: 50 mins Size: 45.32mb

Dave Cohen is joined by regular co-host James Cary to talk to John Finnemore, the writer and co-star of Radio 4's hit sitcom Cabin Pressure. Topics on the t...... Listen
Date: 23rd June 2011 Length: 51 mins Size: 46.75mb

Dave Cohen and the BCG's Aaron Brown are joined by special guest Simon Godley, dentist to the stars. On the table this week is a brand new microphone, plus the BBC Televi...... Listen
Date: 14th June 2011 Length: 35 mins Size: 32.01mb

Dave Cohen and Tony Cowards are joined by legendary comedy agent Vivienne Clore. Topics on the agenda include the pros and cons of the Edinburgh Festival, new come...... Listen