Episode 13 - Sean Hughes

What Are You Laughing At?: Episode 13 - Sean Hughes
In the first WAYLA? podcast of 2013, Dave Cohen and BCG editor Aaron Brown are joined by Sean Hughes. The comedian, novelist and actor is back on tour with a life-affirming show about death. He chats with Dave and Aaron about his career; early 1990s sitcom Sean's Show; how the stand-up industry is changing; the differing motivations between stand-up, acting and writing; and the cult of celebrity. The trio also discuss the ratings hits of broad-humour sitcoms Miranda and Mrs. Brown's Boys, and ask whether comedy is becoming too cruel.
Sean is currently on tour with Life Becomes Noise. He's at the Tricycle Theatre in London on 13th - 16th February 2013, and is also touring the country: Tour Dates & Tickets
Published: 17th January 2013. Length: 71 minutes. Size: 65.84mb
Next WAYLA? episodes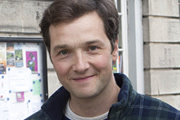 Date: 14th April 2014 Length: 82 mins Size: 75.69mb
The British Comedy Guide's podcast is back! Chris Addison chats in-depth to Dave Cohen about his comedy career, including how he started in stand-up comedy, and his work on shows...