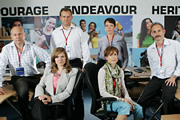 The Olympic Deliverance team must try to get through to the end of the day, the end of the week and the end of the year without all the wheels falling off at once...
A special mini episode, recorded for Sport Relief 2012. Steve Redgrave and Zara Phillips look to Ian and his team for fundraising ideas.
Following the award-wins, the show moved to BBC Two. Four episodes were recorded in one batch, and a final three recorded in another batch just before the Games arrived. The pressure mounts as the Olympic Deliverance team try to navigate their way through more delicate issues. The characters of Daniel and Fi join the team too...