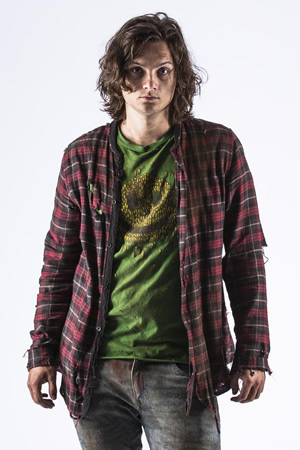 George Webster is Milo...
What can you tell us about Tripped?
It's a very unique little beast! I haven't seen a lot of things like it on TV, which is obviously super-exciting. It's got a lot of sci-fi elements in it, it's got a lot of comedy in it. It's its own little thing.
Milo is an almost tragic character. He's got a lot of charisma, he's funny in his own way, he's likeable, but he's just a knob. This has led him down some pretty questionable paths. We meet him at the beginning of the show, and he's got nothing going for him. Everyone that he loves has gone, his best friend Danny is going off and getting married, and doesn't really want anything to do with him. So we meet him at his wits end really. And throughout the series, his arc is really trying to find that bit of him that's missing, maybe he could, in fact, make something of himself one day.
It's really interesting playing a character like that - a super-loser, with just a hint that he could one day be awesome.
Something quite unusual happens to him and Danny. Can you explain a bit more about that?
Yeah, we end up tripping through these alternate realities, these different spaces, together. And we meet different versions of ourselves. I meet a couple of versions of me. One of them is a dead rock star. This guy was huge, people loved him, he had super-talent, and is genetically identical to Milo, so it makes him ask himself "why didn't I end up really cool like this version of me?".
But on the other hand, you have the benefit of being alive...
Yeah, true. That is always a bonus. I do actually meet a couple of versions of me who are alive. They're always interesting scenes to play, because you're acting against yourself. But being human, subject to our current understanding of the laws of time and space, you can't really do that. So we use these great doubles. I had a guy called Phil who was my double, and we'd do the scenes over and over again. He'd never really acted before, he's actually a photographer, turned extra, turned Yoga guru, turned double. He was great though, he learned all his lines so we could do the scenes really well together.
Was it quite complicated to film, with you having to remember which version of yourself you were playing, and in which universe?
Yeah, definitely. I think everyone apart from me had a better grasp of what was going on. I took the attitude that Milo wouldn't really know what was going on, so I didn't need to know either. So a few times I was like "Where are we? What world? What's happening next? What's my name?"
It was also quite confusing working with your double. Working with Phil, I almost felt like I needed to direct him. Even though they're getting filmed from behind, their body language needs to match the way you'll be playing the character. That all gets confusing, because you're watching him to make sure he's doing that, while you're doing your thing. It was all a bit crazy, but it was great fun.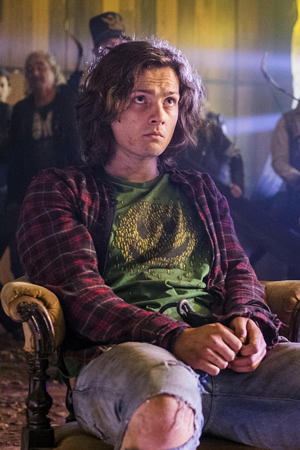 What's it like, walking on to set on a show in which you are one of the leads? Fun, or terrifying?
It was both, I guess. It was everything I'd ever dreamed of. When I got the phonecall saying I was going to be one of the leads in a new E4 show, I absolutely lost my mind. I loved it. You're doing six day weeks, working so hard to get it done. I like working hard, but it was quite daunting...
You go in for costume fittings and it starts to feel a bit more real. Then you're meeting the producers, and the directors, and the other actors, and it becomes more and more real. I think when I arrived for the first day of shooting, I hadn't slept the night before. But everyone was super-positive, and we got through it, and it was great fun in the end.
Did you enjoy working on a comedy? Does it feel different from dramatic work?
Naturally, in life, I always seem to gravitate towards the comical side of things. Doing dramatic stuff is incredibly interesting and exciting, and I think you learn more about life, people and the world doing that. But I think comedy is the best thing in the world to work on.
Everyone's in a good mood and you've got instant feedback, because hopefully people are laughing. You can play a line one way and not get a laugh, take it another way and it works. There's a lot of discovery within that and that's really exciting to me.
What was it like working alongside Georgina Campbell and Blake Harrison?
Amazing. Obviously I knew who Blake was - everyone of my generation knows Blake - so there was a certain amount of pressure that went with that. I remember going into one of the auditions I had - the final one was a screen test with Blake - and I was obviously nervous about meeting him and immediately having to perform and trying to have a rapport with him. But he's so switched on and professional and really tuned in. We got on like a house on fire. We're like long lost brothers. He's a super-nerd, I'm a super-nerd. That love just blossomed. And Georgina was absolutely amazing. Obviously she's just won a BAFTA...
Yeah, did she win that while you were shooting?
She did, yeah. I was in the next door trailer to her when she got the phone call from her agent telling her she'd been nominated. I was the first person she saw, and her entire face just became a smile. After that day, every line that she got wrong, we'd just cough and go "BAFTA" under our breath. But it is a testament to her ability - she wins a BAFTA for this really important and serious drama, and then she comes over to this and is absolutely hilarious with her comedy. She's a super-talent. I'm glad I've met her early on in her career.