Tim Vine is back on BBC One this Christmas with a new festive special. Let's find out more...
Hi Tim. You're known for your pun-based jokes, so can we start off by asking you to give us a festive gag?
What's an angel's favourite type of coffee? A jubee latte'.
We're delighted to see you're back for another episode of Tim Vine Travels Through Time. What can we expect?
Lots of stupid jokes for all the family and me going back in time meeting Anne Boleyn who is played by special guest star Emma Bunton. Normal stuff really.
Do you have a say on who the guest star is going to be?
I had no say whatsoever. All I said was, "the guest star's name has to rhyme with 'Gemma one tonne'."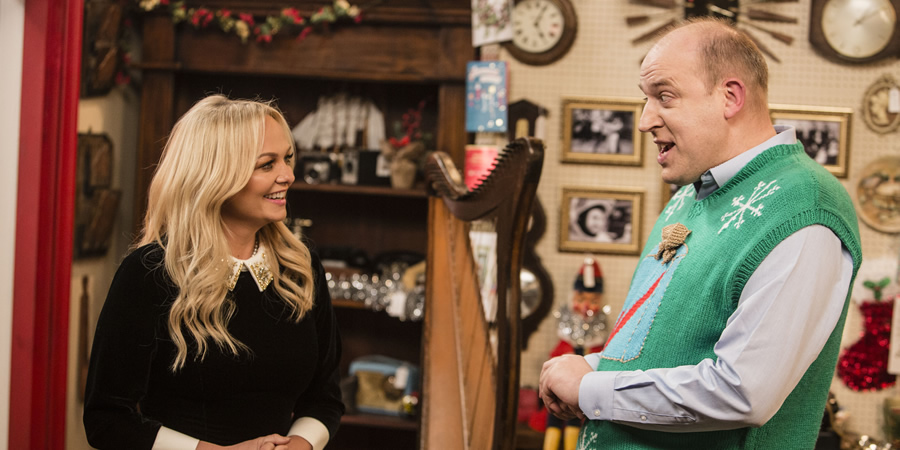 Any thoughts on where you'd like to travel to in the future?
I would like to travel to the past in the future.
Back in reality: What will you be doing over Christmas itself?
In the real world I live with elves in an underground commune. They spend all day knitting Christmas stockings out of birds' nests and liquorice. I do their accounts. I always get some time off over Christmas which is a bit odd because it's our busiest time of year.
I will spend Christmas with family eating and watching television. We watch it first then we eat it.
And how about any New Year's Resolutions?
Eat less televisions.
And, finally, any comedy plans for 2018 yet Tim?
Yes I will be touring my silly stand-up show Sunset Milk Idiot all around the UK. See you all there.