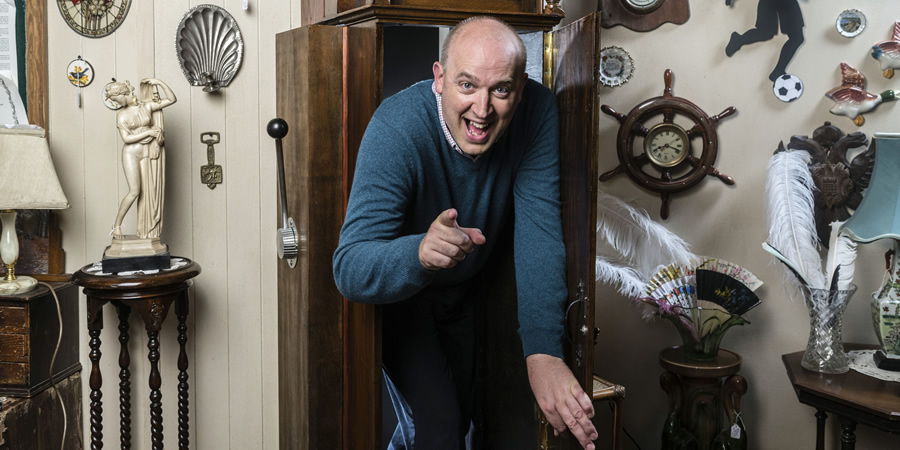 Another comedy also has this name.
Recent news
Genre

Sitcom

Broadcast

Channel

Episodes

1 Pilot

Creators

Tim Vine and John Archer

Starring

Tim Vine, Ore Oduba, Sally Phillips, Tim Key, Spencer Jones, Mandeep Dhillon, Kayode Ewumi, Marek Larwood and others

Writers

Tim Vine and John Archer

Director

Producer
Master of the pun Tim Vine journeys back in time to the days of Robin Hood in a quest to mend a golden arrow and a broken heart.
Tim is in search of a celebrity for the grand opening of his antique shop. It just so happens that his very first customer is presenter and Strictly Come Dancing champion, Ore Oduba, who asks Tim if he can mend his ancient golden arrow. Tim steps inside his very special Grandfather clock which travels him back in time to Sherwood Forest in the days of Robin Hood and his band of merry men.
On arriving, Tim is greeted by Robin himself (who bears an uncanny resemblance to Ore Oduba). Robin is suffering from a broken heart. He has mysteriously lost his famous bullseye aim, and with it the love of Maid Marion. Tim must get to the bottom of the mystery but local tyrant and shouty killjoy, the Sheriff of Nottingham, is determined to drive him out of town. Can Tim get to the bottom of this skullduggery and help Robin regain his archery prowess and win back the love of Maid Marion? Will he be able to repair the broken arrow and secure Ore Oduba to cut the ribbon at the grand opening of Tim's Antiques? Only time travel will tell...
A first pilot for BBC One was recorded in 2011 but never shown. A version for Radio 2 was broadcast in March 2017.
Use the menu bar above to access more pages.