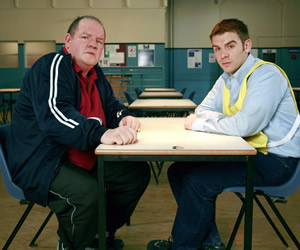 The Visit, written by stand-up comedian Tony Burgess (perhaps best known to TV audiences as Moz's brother Troy in Ideal), is set entirely in the visiting room of HMP Radford Hill - a category C prison.
Stray sheep, dodgy drug deals, prostitutes with amazing foot dexterity and snatched conjugal rights are common occurrences as the inmates of Radford Hill are reunited with loved ones and suspicious business associates during their all-too-short weekly visiting period.
Michael has taken the rap for a local jewellery robbery, but his refusal to grass means he's the one locked up waiting for his appeal while the real culprits roam free. At least he has the support of his family - when his dad is not conducting a one-man crusade against speed bumps, he is always on hand to give dubious advice.
Nana is determined to save young Michael's soul, but tends to inhabit her own curious world of crucifixes and diabetic socks.
Michael's younger brother, Stevie, has no particular grasp on life other than taking soft drugs. He also has a peculiar knack of attracting a never-ending string of girlfriends.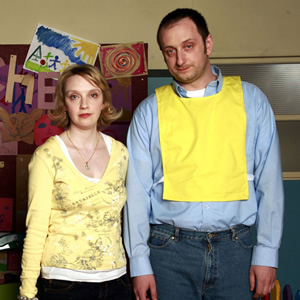 Gambling addict Clint is desperate to prove his machismo, but what chance has he got when his own wife - the long-suffering Bev - can't take him seriously? And why is his nine-year-old son suddenly taking an unhealthy interest in dolls, skipping and stage musicals?
Clint's ability to say the wrong thing and upset those around him is becoming legendary. Still, a big dose of denial keeps his dream alive.
With inmates like Splodge Costello, whose campaign for the right to extra toilet roll takes pebble dashing to a whole new level, and Blind Pete, who may or may not actually be blind, life at Radford Hill verges on the surreal.
Meanwhile, boredom reigns among the Prison Officers, except for megalomaniac Mark Bamford who wants to be in charge but thinks all prisoners are lying scum. Russell passes the time by winding Mark up (it's so easy) and skiving, while newcomer Rachael soon learns the importance of doing the bare minimum to get the job done, making good use of the time to catch up on her reading.