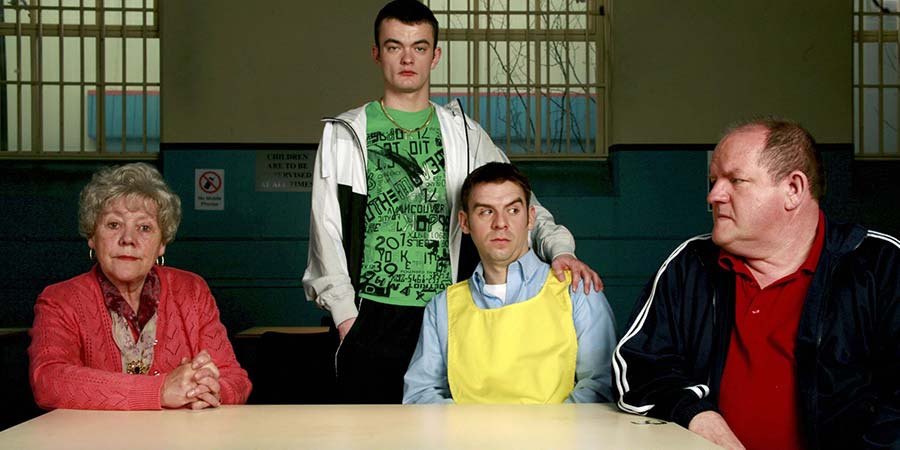 Another comedy also has this name.
Genre

Sitcom

Broadcast

Channel

Episodes

Starring

Iain McKee, John Henshaw, Craig Fitzpatrick, Beatrice Kelley, Steve Edge, Naomi Radcliffe, Angel Coulby, Darren Tighe and others

Writer

Director

Producer
The Visit opens the door of a low-security prison visiting room for a comedic peek into the lives of a group of petty crooks and the family, friends and fiends who visit them each week.
Under the watchful eye of the under-valued, officious prison visiting officers, the prisoners struggle to maintain marriages, rebuild relationships and catch up on the lives on the outside of their loved ones and their loathed ones.
Wannabe hard man Clint likes to refer to himself as 'frisbee', because he always returns to prison but, as his somewhat smarter wife points out, it should actually be 'boomerang'.
Michael, meanwhile, refuses to turn grass to aid his appeal, because he's rather attached to his kneecaps. Whilst incarcerated he endures card games with his cheating Dad and his wittering Nana, who often visits armed with a crucifix.
Added into the mix is the facially pierced Blind Gaz, a grubby kids creche where hepatitis is spread by a Fimble and a visiting officer who thinks the vending machine running out of Crunchie bars is a code red situation!
Production company

Also known as

Small Time (Working title)

Soundtrack

Theme music is by Slade

Laugh track

None
Broadcast details
First broadcast

Sunday 15th July 2007 on BBC Three

Last new broadcast

Sunday 26th August 2007 on BBC Three

Length of episodes

30 minutes

Last repeat

Wednesday 13th August 2008 at 10:45pm on BBC1
Website links