The Abbey was a pilot starring Morwenna Banks alongside Russell Brand, Omid Djalili, Reece Shearsmith, Liz Smith, Miranda Hart and Tamsin Egerton.
Clearly inspired by real-life retox centre The Priory, The Abbey is a sanctuary for the notorious, the dysfunctional and the publicly shamed. Opened by shambolic ex-rock star Marianne Hope (Banks) following a very public nervous breakdown, this rambling country retreat offers new age therapy to the tired and emotional. Slimy manager Tony (Djalili) runs The Abbey, while Marianne is busy cleansing her chakras.
Terry (Brand) is a 'Superstar DJ' who can't see why his crack addiction causes such a fuss. Pensioner Elsie (Smith) is a sex addict with a penchant for perversion. Tiffany (Egerton) is a model who would prefer to throw up the one cashew nut she allows herself per day than digest it. And Helen (Hart) is the suicidal, yet absolutely lovely, wife of a disgraced MP.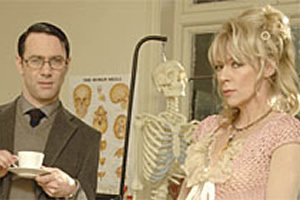 They all turn to Marianne and Dr Darren (Shearsmith), the one medical professional stupid enough to take the job, for salvation in the cruel world of stardom. But Tony is all too aware that, in order to keep The Abbey open, a little press coverage wouldn't go amiss...
Paul Jackson, Director of Entertainment and Comedy, said: "Baby Cow has an excellent reputation for edgy, critically acclaimed and seriously funny comedy and we are delighted they are now working with us to produce such a show for ITV. A great script has persuaded a strong, diverse and interesting cast to join us. We very much look forward to seeing The Abbey in our schedule".
Henry Normal, co-founder of Baby Cow, added: "In this age of celebrity hungry media The Abbey is the perfect comic antidote to the glamorising of fame. These are the pictures Hello and OK! don't get."
The Abbey is directed by Jonny Campbell (Phoenix Nights) and produced by Alison MacPhail, whose credits include Nighty Night. The show features music by Stephen Jones of Babybird.