Greg Davies says that, as the Taskmaster, he has discovered a vindictive streak he didn't know he had.
What can we expect from this series?
We can expect a whole new raft of exciting guests. There are some brilliant people this series. Noel Fielding and Mel Giedroyc, Hugh Dennis who apparently is knocking it out of the park. And Lolly and Joe too.
What makes a dream contestant?
I am part of the discussion process of who would be our dream people and I think it's someone who recognises that we're not out to humiliate anyone but throws themselves in to the tasks and humiliates themselves! There's no malice to this programme and it's a very much 'we're all in this together' thing. I play this preposterous authoritarian figure but in fact I'd be horrified if anyone came on it who didn't just have fun.
So, they need to have no shame...
No and I think that's the thing, it's consensual humiliation. They know they're going to look silly and that their brain is going to throw up unusual ways of tackling certain tasks, but just be celebratory about that and throw themselves in to it. And I have to say that I can't think of a contestant so far in all three series that hasn't done that, who hasn't thrown caution to the wind and gone 'yeah'.
Why do you think the concept works so well?
I think it's the sort of combination of the bizarrely imaginative tasks and the simplicity of it working hand in hand. It's very much Alex's baby - he developed it in Edinburgh - and the tasks are fiendishly complicated but fiendishly simple all at once; they're leftfield enough to throw peoples' brains out of kilter. The actual concept is like a parlour game and who doesn't enjoy the fun of involving themselves in a bonkers activity?
Why do you and Alex work so well as a team?
Alex and I didn't know each other especially well when we started but we do get on very well now. Alex is a very thoughtful, self-effacing, humble man and I'm a big booming show-off - the perfect combination! We're very different performers and just complement each other.
I think he needs a mouthpiece so he likes to play the role of being confidante of the contestants and I come in and make the harsh judgments. And the idea that I'm in any way a figure of authority delights me. I was a teacher for years and never considered a figure of authority, so for someone to give me a degree of power no one can take off me is intoxicating.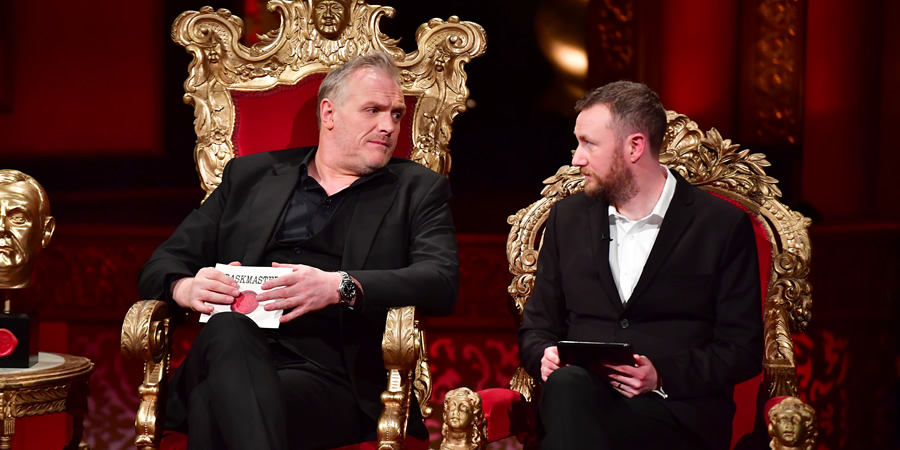 Has it given you more kudos being a host of your own show?
It's an unexpected treat because it's not something I ever had an ambition to do, so it's sort of unusual to be a host of a show. When I set out in comedy I didn't think hopefully I'll host a show some day. The only reason I'm hosting it is I really love the show.
Were you nervous about it?
I was very nervous at first. Because it's a great idea and I didn't want to be the mouthpiece for it and mess it up because there's so much thought, planning, time and hard work that's gone in to it. But, like the contestants, you quickly realise this is a show that's just a celebration of silliness and fun, and the spirit of it is really positive so I soon relaxed in to it. And dare I say I've discovered a vindictive streak I didn't realise I had.
Has that manifested itself in everyday life as well?
I'm sure I've tried to bring it to my everyday life but friends and family would quickly shut me down. But it's nice to be handed authority by a television show format. It's a lot easier than having to earn authoritarian respect in real life. And ultimately, I do make the decision on the show. It's not pretend. If there's a decision to be made then I do make it there and then on the spot. I didn't think I was good at making decisions but I am on this show. I find it worryingly easy to crush peoples' dreams. Power corrupts!
Who's been your favourite guest so far?
I honestly wouldn't want to single someone out, which I know is a cop out. They've all embraced it and I think they all bring different things to it. I find it funny when I see someone's brain work in such a different way to mine. It brings out a different side to everybody who's on it.
A lot of contestants I know very well; someone like Roisin Conaty who was in the first series... even though she's been a really good friend for 12 years, her reaction to things surprised me. And if I've just seen them on the TV shows, they usually turn your expectations upside down.
People you think are going to be shy or reserved tend to be absolutely insane and throw themselves in to it; it's always the quiet ones! And the people you think will approach things with gay abandon are often frozen by fear or make the most preposterous mistakes. When we told Paul Chowdhry he had to spread his four items of clothing as far and wide as he could, the first thing he did was just throw an item of clothing over the hedge next to him. And he had an hour! I love it when you know that when they finish the task they're going to go d'oh, and slap themselves on the forehead!
What's been your favourite task?
I have so many. Frightening Alex when he came out of the shed really made me laugh. Rob Beckett did such a peculiar thing where he dressed up as an old woman and fired a jet wash in to Alex's face. You just think, when you're told you have to scare someone, what part of your brain goes 'I know what I'm going to do, I'm going to dress up as an old lady and try and get hold of a jet wash'.
It's finding a part of the brain that I don't think will get found in many other situations in life. It seemed so logical at the time. I loved it when they had to hide an entire pineapple on their person, simple things like that. I loved the one where they had to impress a mayor, too. It's one of my most memorable things - Joe Wilkinson bought him 42 Calippos! I loved that.
Are you shocked by how competitive people get?
People are petrifyingly competitive. I think it shocks them how badly they want it and all they stand to win is a painted golden version of my head, which doesn't even look like me. And without them wanting to prove they're the best person at popping balloons or whatever stupid task they're asked to do, there isn't a show.
We love the competitiveness. We've had at least two or three comedians genuinely lose their temper with me when they think they've been judged wrongly. Which both scares and delights me. The sense of injustice is wonderful.
Who are you most excited about this series?
Everyone; I think it's such a wonderful line-up this series. It's such a wonderful mix of styles and people and ages. I love the fact there's no hip crowd that get involved with this show, it's open to everyone who's game and we think will throw themselves in to it. There's already a fifth series and I hope it continues, it's an absolutely joy to be a part of, long may it continue.