This interview is from Series 1.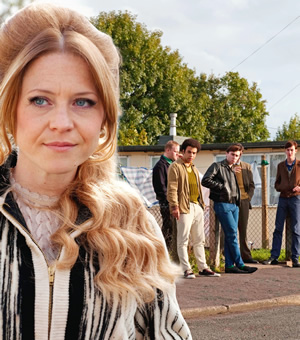 Best-known in TV for her roles playing lesbian prisoner Cassie in Bad Girls and starring as Ali G's less-than-glamorous girlfriend Me Julie in Ali G Indahouse, Kellie Bright jumped at the chance to pop into a girdle and put the red lippy on for Rock & Chips! Here she talks about playing Peckham's answer to Brigitte Bardot...
Tell us about Joan Trotter...
My word for Joan would be vivacious. She just has this huge love of life. Being poor in the Sixties really meant being poor but Joan manages to get through it with a spring in her step and a smile on her face. It sounds odd but when I think about the Sixties I think about it in black and white, but Joan would be in technicolour! She's a dreamer but she's also very practical and would never dream above her station or drop her responsibilities and run off into the sunset.
And she's quite a looker...
Joan likes to make the best of herself and she's that mum that all your mates fancy! At that time women of her age were kind of middle-aged and dowdy - sort of old before their time - but Joan has managed to hold on to her youth, even though, when we meet her, it's just starting to fade. She would never want anyone on the street to see her less than immaculate - she wouldn't even put the bins out without her red lippy on!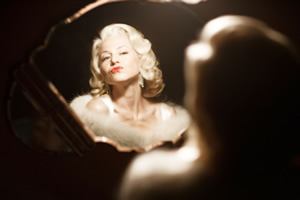 Was it fun to get dressed up for a change?
It was amazing fun. I had a fantastic make-up designer and I got to look fabulous every day! It took some time to create Joan on a daily basis and the team worked really hard but, when you're doing a period piece, it really helps to have that element as it helps you to step out of your own life. As soon as I stepped into Joan's structured underwear - I had to wear a girdle everyday - it made me stand differently and feel completely different and that really helped.
What was it like being Del Boy's mum?
I just loved playing Joan and the fact that she was a mother to these two iconic characters was part of her charm. I tried not to worry too much about what other people would have wanted her to be like and just tried to stay truthful to John Sullivan's writing and play her as I saw her. I loved playing a mum and exploring her closeness with Del Boy. She was very young when she had him and they've sort of grown up together and, in her world, he's the thing that she's most proud of. And Del is proud of her too. He's not embarrassed that all his mates fancy her, he celebrates the fact that she's gorgeous!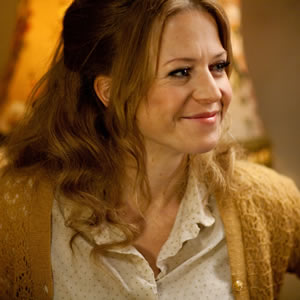 What was it like working with Nick Lyndhurst?
I just think he's brilliant - I mean really brilliant. To come back to work with the same group of people you've worked with for 20 years and create something new is just extraordinary and I never felt for one minute when I was working with him that I was looking into the eyes of Rodney - there wasn't a single glimmer. I have worked with some amazing people but Nick is just the most brilliantly-talented comic actor I've ever worked with and I just hope that together we've done justice to John Sullivan's writing and helped create this love story.
How did you feel being part of the Only Fools And Horses heritage?
I am hugely grateful and honoured. I grew up with Only Fools And Horses, I'm a huge fan and I am just ecstatic to be embraced as part of that family! Getting the phone call from my agent to say that I'd got the part was the most extraordinary feeling. I was on the streets of Edinburgh while I was working at the festival and was waiting for the call. When my agent rang she just said 'is that Mrs Trotter?' and it was the most unbelievable moment - I was really, really chuffed!