Reunited
Comedy drama by the writer of Cold Feet and Life Begins. Six former friends reunite eight years after their houseshare ended in acrimony
Genre

Comedy Drama

Broadcast

Channel

Episodes

1 Pilot

Creators

Starring

Joseph Millson, Zoe Tapper, Emma Stansfield, Navin Chowdhry, Ed Byrne, Michelle Terry, Sarah Jane Potts, Jemima Rooper and others

Writer

Director

Producer
Reunited is a one-off pilot from Mike Bullen, the acclaimed writer of Cold Feet and Life Begins.
It follows a group of six people who once shared a house together in London during their early twenties. Martin and Hannah were a couple who seemed destined to end up together until Hannah, in a moment of madness, slept with Martin's best friend, Rob. The other occupants, Belinda, Danny and Sarah, watched in dismay as acrimony and recrimination tore the close-knit group apart.
Eight years on, following another failed relationship, Hannah discovers her old flame, Martin, is engaged to be married and returns to London. With differing degrees of enthusiasm, the friends gather again and realise the distant past may not be as distant as they had imagined.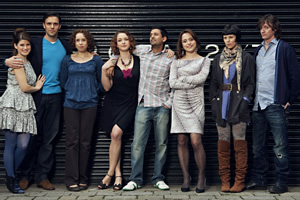 Production company

Laugh track

None
Broadcast details
First broadcast

Wednesday 30th June 2010 on BBC One at 9pm

Episode length

1 hour
Website links
Official Web Page
The official BBC page for the show. Features three short video clips from the programme.