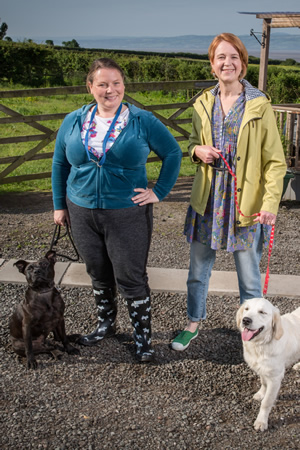 An interview with Puppy Love creators Joanna Scanlan and Vicki Pepperdine, and the show's director, Susan Tully.
Hi. Why did you choose to write a comedy about dogs?
Vicki: Some are born with a dog, some achieve a dog and some have a dog thrust upon them... We wanted to write a series about dogs, but more specifically about why people choose to get a dog. What is it that is missing from their lives that they hope to get from a furry companion?
The series is about getting a dog to love, getting a dog to love you back and by accident learning that a dog can teach you everything you need to know about loving yourself. And we wanted to tell some of the stories of why 7.3 million people in the UK choose the joy of owning a dog when the reality of mishap, adventure and tribulation, is often more than they bargained for.
The show is set in The Wirral, in North West England. Why did you pick that location?
Joanna: We both have close family connections to the Wirral. I was born in West Kirby and visited for many years when my grandparents lived in Caldy. The 'insular peninsular' is a wonderful combination of town and country surrounded by the most exciting maritime waters. It's a place of harbour and adventure, seemingly with more dog owners per square yard than any other location in the UK, the perfect setting.
Many of the local community became involved in the filming?
Susan: West Kirby is a true gem. It's a joy to photograph - even on a grey day that view across the River Dee towards Wales is stunning. The community of West Kirby and beyond were absolutely invaluable to the making of Puppy Love. The series features all local shops and services, all local emergency services including the RNLI, the West Kirby Sailing Club and of course local dogs and their owners. We needed their co-operation and their participation and we got it in spades.
Vicki: We wanted to use 'real people' to populate our world and lend it authenticity (like the elderly ladies in their hospital beds in Getting On). There is such obvious authenticity when you get a real lifeboat crew member or a genuine police dog handler. For the members of Nana V's dog class we used local people with their own dogs. The on screen relationships between pet and owner meant we were able to use the dogs to greatest effect.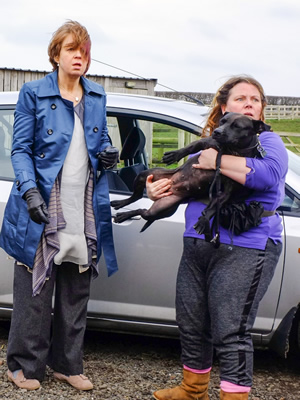 Joanna, could you tell us more about your character Nana V...
Joanna: We wanted to create a character who has lost all faith in human beings and has replaced it with the unquestionable loyalty of a dog. Against her better judgement she bounces back time and time again to care about all the people around her.
How is Naomi, played by Vicki, involved?
Vicki: Naomi is a dedicated youth worker in the voluntary sector and is married to cycling enthusiast Ravi Singh. Naomi is motivated, precious and demanding both of herself and her spirited daughter Jasmine, who is about to turn 16.
Naomi and Ravi have bought Charlie, an expensive pedigree Retriever to try and teach Jasmine a sense of responsibility, but Charlie totally disrupts their family life and Naomi ends up in desperate need of help [so they attend Nana V's class].
Most people in TV and film say you should avoid working with animals. What was it like to work with the canine cast?
Susan: An animal of some type appears in every scene throughout the series (bar one or two scenes but let's not be picky). I wasn't as apprehensive as you'd think - occasionally the animals had to do something specific and the approach was - if they can do it fine - if they can't then we find a way around it. Finding creative solutions to problems - thinking about different ways to illustrate story beats if the animals wouldn't play ball (which was rare) is easier when you've got the writers on hand.
Joanna: We wanted to work with local dogs and their owners, to capture real relationships and allow ourselves to respond to the dogs' behaviour rather than training the dog to 'interpret' our script. It turned out to be one of our best decisions as we think all the dogs are magical on camera, giving some BAFTA-deserving performances.
We get to meet Millie, your real-life pet, in the opening episode Joanna...
Joanna: It was difficult to combine being proud showbiz mum with leading lady, I didn't know whether to push the dog into the limelight or elbow her into the wings! It's a very special feeling to have your co-star stare deep into your eyes with cupboard love.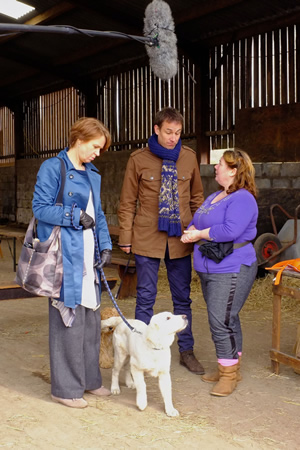 How did you straddle the roles of writing, starring and producing on the same project?
Vicki: With difficulty. But it was well worth it.
Joanna: [Talking about the writing process]. We'd start at nine in the morning and don't stop until six at night, with a break for a nice homemade lunch. We tend to write with character first and the character's actions then create the plot for you, oh and that small matter of research!
Improvisation plays a part in this show. How do you set about directing the unexpected?
Susan: Improvisation is a key tool, but it's not the only one. Jo and Vicki put enormous amounts of time and effort into their scripts. There is depth and subtlety to their comedy, the way they structure their stories are solid yet unexpected and complexity of character are all on the page. So it's rare that something truly unexpected happens during filming.
Improvisation doesn't work without a context. The key for the actors was to know and understand the intention for every scene but not to get hung up on knowing the lines. With some of the smaller parts we didn't bring the script into play at all - we just talked it through and started shooting - I'm not a fan of rehearsing. For some actors this can be incredibly liberating.
I work at my best when I'm working collaboratively so I try to create a working environment that encourages experimentation - but the script is always in the forefront of my mind.
'Puppy Love' is on BBC Four on Thursdays at 10pm.