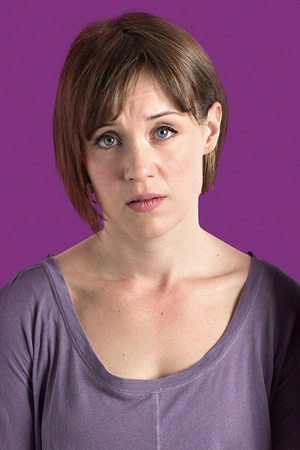 British Comedy Guide chats to Scarlett Alice Johnson, who stars as Laura in Pramface...
Hi Scarlett. Your past roles include shows like EastEnders, but you're now doing lots of comedy too. Are comedy and drama quite different, skills wise?
The line between comedy and drama is pretty faint I think. It all starts with character, the dialogue might lend itself to a dramatic or comic situation but it should all stem from the particulars of that character. So sometimes I'll play dramatic scenes within a comic show, purely because that is what the character and dialogue require. And sometimes vice versa. It is lovely being able to make people laugh and smile though. It is very rewarding and definitely makes me pretty happy.
So what particularly attracted you to take on the role of Laura?
Chris Reddy who wrote Pramface managed to make Laura a great balance between vulnerable and tough. And he avoided a lot of the clichés that sometimes get used with a subject like pregnancy. I loved that she was an upper-middle class girl who fell pregnant. After all, no one sails through life without complications. It is how you handle them that defines you. I think Laura has her heart in the right place too and that even in the midst of chaos she is always concerned with doing the right thing, proving her to be responsible. That seemed like a refreshing angle.
Well said! In the first series Laura is 18, but you are in your 20s... was it easy to adjust your mindset back to being a carefree teenager?
Not really... It wasn't that long ago after all!! It was fun being able to go back in time a bit.
On the topic of being carefree, Laura is no longer able to do what she wants as she has a baby to look after. What's it like filming with real babies?
CUTE! We had six different babies and they were all adorable and brilliantly behaved. It is sometimes stressful as, funnily enough, babies don't often do exactly what you need them to do. Invariably they cried when we needed silence and giggled away when we needed screams. But having a cuddle whilst working was fun. It also added huge realism for me playing a mum. Working with dolls just isn't the same, even if it is less stressful!
What about the rest of the cast, was it a good atmosphere on set?
Amazing. We are all genuinely good mates and it real feels like you are part of one, very funny, family. We were all so proud to be re-commissioned before the first series even went out. Finally coming back to make Series 2 felt huge. We had a lot of the same crew and locations so it was a bit of a reunion really. There were a lot of great nights out, dinners, and a lot of laughing, they are a funny bunch.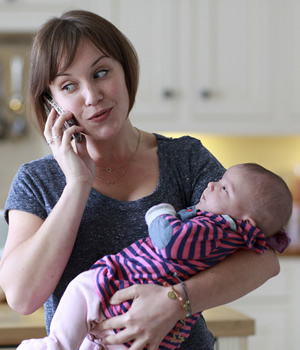 Since Series 2 started, have you had any feedback from real life single-parent teenage mothers?
Surprisingly the most frequent response is men getting in touch to say they watched because their girlfriends made them... and now they are totally hooked. Or from the 35 plus age range who similarly felt it wouldn't be for them but then got really into the great comedy writing and became great fans. It is like a guilty pleasure or something! We have such amazing and devoted fans who tweet non-stop. It makes me so chuffed and proud to see people enjoying it.
At the time we're talking to you, it seems Jamie and Laura are getting closer. Might they become an actual couple?
Hmmm, watch Episode 4 and see what you think! It isn't all rosy. They may find a way to work through their differences but I think their major priority is Emily. Everything else will have to wait...
From what you've said, presumably you'd be up for doing a third series if BBC Three are up for it?
Without a doubt I'd love to do a third series. But that is a long way off. We have had huge success and an overwhelming response. If that ends at Series 2 then I'll be grateful for being able to make two series. But I'd also be happy to play Laura and keep reading Chris's scripts for a long while to come. I think there is plenty of room to see all the characters grow, including Emily, and to develop Jamie and Laura's will-they won't-they relationship.
Indeed! Fingers crossed for the show. What's up next for you?
I have just finished shooting Big Bad World for Comedy Central. I play Lucy who is the ex-girlfriend of Ben, played by Blake Harrison. It is about him coming back to his hometown after uni and the crash back to earth that that can be. Lucy is less of a nice girl next door, rather a bit condescending and manipulative! It was a lot of fun to make.
Thanks for all your time Scarlett!
Pramface continues on BBC Three on Tuesdays at 10pm. You can catch-up on iPlayer.
Big Bad World will be on Comedy Central a bit later this year.