BBC Two confirms commission of Count Arthur Strong series
BBC Two confirms commission of Count Arthur Strong series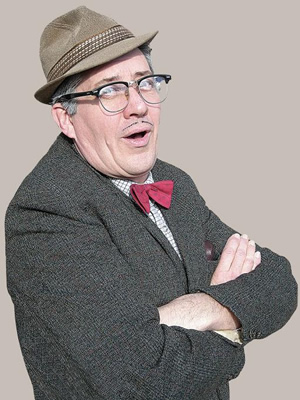 BBC Two has confirmed it has ordered a series of Count Arthur Strong, a sitcom starring Steve Delaney as his Sony Award-winning Radio 4 character. The news was first revealed in May.
Count Arthur thinks of himself as a show-business legend - in reality he is an elderly, pompous, out-of-work deluded thespian who was barely famous at the height of his success, and certainly isn't recognised now. His speech is full of false starts, malapropisms and nervous fumbling, badly covered up by a delicate sheen of bravado and stubborn self-assurance.
Delaney has been playing Count Arthur Strong for a number of years, both in live stage shows and on the radio. He created the character in the 1980s when he was a drama student at Central School of Speech and Drama in London. The character came to national prominence when Count Arthur Strong's Radio Show! launched on Radio 4 in 2005, running for seven series to date, thus becoming one of radio's longest running sitcoms.
The new six-part TV series, following Count Arthur attempting to recount his life story to the son, Michael, of his former double-act partner, is due to go into production later this year. It is being written by Delaney alongside Father Ted co-creator Graham Linehan.
The duo have been working on bringing Count Arthur to TV for some time. In July 2010 a non-broadcast pilot episode of Count Arthur Strong's Entertainment Game was recorded at Teddington Studios. The format - a spoof gameshow hosted by the bumbling pensioner - has since been ditched in favour of the sitcom premise.
BBC Executive Gregor Sharp says: "We are absolutely delighted to see Graham and Steve join the immensely talented group of writers and comedians making brilliant shows across the BBC channels."
Graham Linehan comments: "I've loved Count Arthur for many years and it's a dream come true to be able to work with him."
Stephen Delaney adds: "I've loved Graham Linehan for many years and it's a dream come true to be able to work with him. I'm sure that nothing will go wrong. (That's seven more words than him as well.)"
Richard Daws, the Executive Producer for production company Komedia, says: "Having made Count Arthur Strong a fixture of BBC Radio Comedy, our 'dream team' collaboration with Retort gives us the opportunity to make the character a fixture in the BBC TV Comedy schedule." Whilst Jon Rolph, the Executive Producer for co-producers Retort adds: "Graham and Steve are two mighty talents and we're thrilled that Retort is helping to bring them together for BBC Two."
Here is a video clip of Delaney performing as Count Arthur Strong on the 2007 TV special Music Hall Meltdown:
Share this page