Channel 4 to try out new Micky Flanagan show
Channel 4 to try out new Micky Flanagan show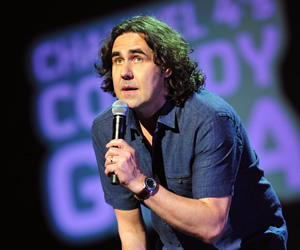 Channel 4 is to try out a new TV vehicle for comedian Micky Flanagan. The cockney stand-up will host a trial episode of Micky Flanagan's Awkward Family Show at the end of the month.
The programme, which has been devised by production company Magnum Television, will see the comic "celebrating 'the family' by taking an affectionate look at family life, with all its quirks and oddities."
Producers describe the show as follows: "Micky takes a trip through some of the most hilarious, embarrassing and just plain awkward moments that families choose to document on camera. Micky will be offering his own unique perspective on some truly unique clips and photographs."
The pilot episode will be recorded at BBC Television Centre on Friday 31st August. Free tickets are now available.
The show involves people sharing their home videos and photographs, and producers are currently looking for families to take part. Producers say: "If you have an outspoken family whose habits or quirks can sometimes drive you a bit mad then you could actually get involved in the show. Does your family fit the bill? Would they be able to dedicate a couple of hours of their time to chat on camera with Micky? If so, please get in touch. Simply send your details to: awkward@magnumtv.co.uk"
Flanagan is currently in a one-year development deal with Channel 4, but the network has yet to find the comedian a successful format. To date, Flanagan has acted as one of the team captains in Channel 4's The Mad Bad Ad Show, a format that flopped to the extent it was delayed mid-run before being moved to a graveyard slot.
Share this page