Jack Dee comedy series ordered by Sky Atlantic
Jack Dee comedy series ordered by Sky Atlantic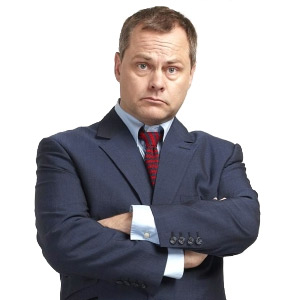 Sky Atlantic has commissioned a new comedy entertainment series to be hosted by deadpan comic Jack Dee.
Don't Sit In The Front Row will see Dee chair three comedians in building comedy routines based on members of the studio audience. In each episode, 5 members of the public will be invited to sit in the front row - and whilst each comic must start blind, Jack already knows everything about them.
The comedians must then dig into the lives of the public to build a comedy routine. In each of four rounds, one member of the audience will be eliminated, leaving the Joe Public with the most interesting stories, facts and tidbits to be awarded the 'Golden Chair' prize.
Created by comedy writers Giles Pilbrow & Colin Swash, and Horrible Histories producer Caroline Norris, the 16-part series will be filmed later this year and broadcast in the autumn.
Sky Atlantic commissioner Antonia Hurford-Jones said: "The spontaneity of the audience interaction is what makes Don't Sit In The Front Row so exciting."
Pilbrow, also one of the show's producers, added: "The comics are shooting from the hip - and you can tell they are. There's a certain joy about genuine spontaneity which can't be faked."
Share this page