Guilt Series 2 filming
Guilt Series 2 in production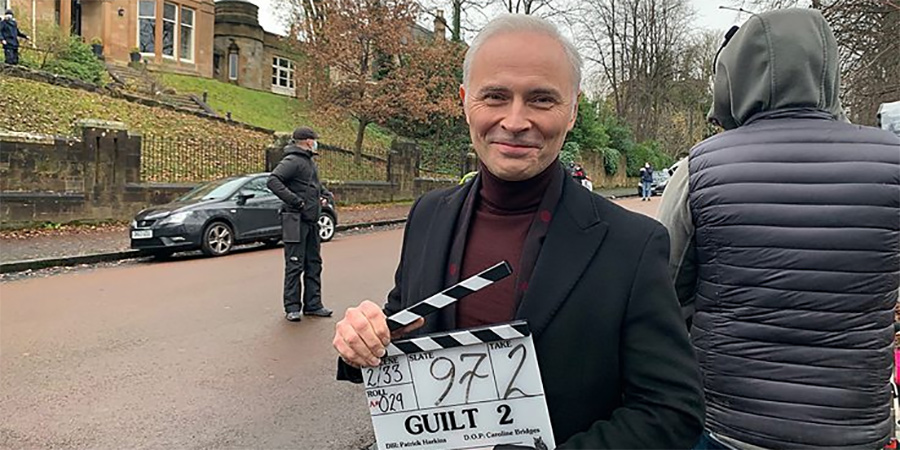 Filming is underway on the second series of BBC Scotland's dark comedy drama Guilt.
Stars Mark Bonnar and Jamie Sives are joined by a new cast for the four new episodes.
Once again written by Neil Forsyth, the second series is described as "another twisting, surprising story which picks up the action two years after the dramatic finale which saw two disparate brothers, Max and Jake face the consequences of their guilt after accidentally killing an old man."
"In this new second series, characters old and new will battle the consequences of their guilty actions, amidst shocking new developments."
The new cast includes Sara Vickers, Phyllis Logan, Stuart Bowman, Ian Pirie, Greg McHugh, Rochelle Neil and Sandy McDade.
The cast and crew have formed a bubble and will be tested twice a week for coronavirus.
Series 2 was ordered following the success of the first series, which was watched by over 3 million people.
Mark Bonnar, who plays flawed lawyer Max, says he is delighted to be back filming Guilt again. "I'm completely overjoyed that Guilt is getting a second series! Neil has crafted four amazing scripts with some cracking new characters and an immensely involving plot, full of twists and turns. He's really putting us through the mill! And of course, I'm over the moon to be working with Jamie again.
"We've assembled a fantastic crew - many returning from Series 1 - and I know they're just as excited as us to be a part of this wonderful show."
Writer and executive producer Neil Forsyth adds: "I'm delighted that we've been given the opportunity to continue the Guilt story. Once again, we have an amazing cast and creative team and I can't wait to see them bring the scripts to life."
The new series of Guilt is expected to air on both BBC Two and BBC Scotland in 2021. Series 1 is on iPlayer
---
For updates, click the button below.
Share this page