Staged Series 2
Michael Sheen and David Tennant film Staged Series 2
BBC One has confirmed that David Tennant and Michael Sheen are to film Series 2 of Staged
The supporting cast are all due to return too, joined by new addition of Parks And Recreation star Ben Schwartz
Sheen says: "It's been so great to see how much people enjoyed the first series"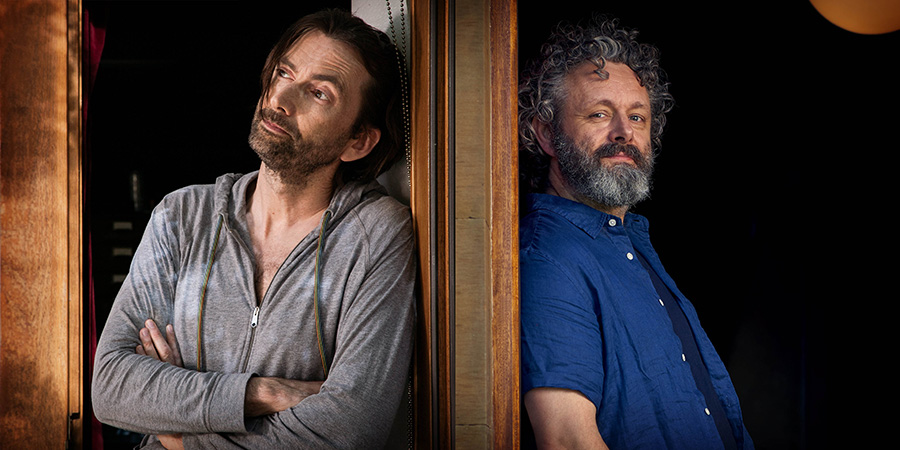 David Tennant and Michael Sheen are filming a second series of Staged, their critically acclaimed BBC One sitcom which sees them interacting via Zoom calls.
The BBC says: "The new series sees the pair attempt to navigate their 'new normal' at home with their increasingly exasperated families whilst simultaneously trying to tackle the world of 'virtual Hollywood' and their ever more fragile egos."
It's been confirmed that Georgia Tennant, Anna Lundberg, Lucy Eaton, Nina Sosanya and Simon Evans, who all appeared in the first series, will be present for the new episodes too.
Series 2 sees Ben Schwartz, who is best known for playing Jean-Ralphio Saperstein in hit US sitcom Parks And Recreation, joining the cast. He plays Tom, the assistant to Michael and David's American agent.
The BBC teases: "Following on from the surprise appearances in Series 1 of Judi Dench and Samuel L Jackson this series sees the regulars joined in their virtual hell by a whole host of unexpected guests.
"The series hopes to capture our shared feelings of frustration and confusion at a world not quite ready to re-open. Moments that promise normality dashed before they can take hold. The tantalising prospect of comfort kept at bay."
The new episodes have been written and directed by Simon Evans.
The BBC press release announcing the series played on the running joke of the two stars bickering over who should be billed first. It was titled: "David Tennant and Michael Sheen, or should that be Michael Sheen and David Tennant return with more Staged for BBC One."
Michael Sheen says: "It's been so great to see how much people enjoyed the first series. Seemed like the laughs were much appreciated. It made us really excited about taking it further and going in some surprising and hopefully enjoyable directions this time."
Georgia Tennant comments: "The prospect of getting my husband back into employment alongside the divine Ben Schwartz and the hairy, Welsh legend that is Michael Sheen all makes me very happy to be back for Series 2!"
Below is a clip from the new set of episodes, featuring Ben Schwartz:
See tweet
Transmission details for the new series of Staged will be announced in due course. The first series is on BBC iPlayer
---
For updates, click the buttons below.
Share this page