Gone Fishing Series 4
Mortimer & Whitehouse: Gone Fishing to return for fourth series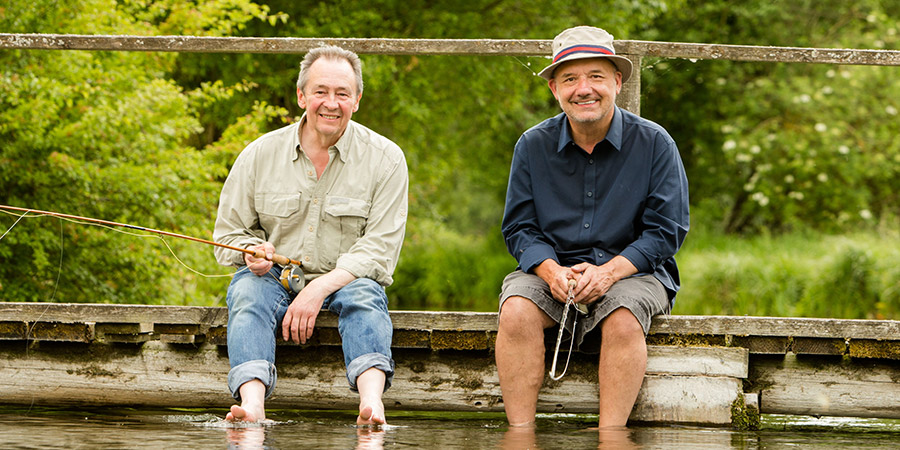 Mortimer & Whitehouse: Gone Fishing has been commissioned for a fourth series on BBC Two, British Comedy Guide can exclusively reveal.
Bob Mortimer and Paul Whitehouse are to make six more 30-minute episodes of the BAFTA-nominated comedy, in which they fish in picturesque locations around the UK.
The third series, which finished on Sunday, attracted consolidated audiences of 1.8 million viewers across its first five episodes.
"The fish of the UK needn't worry too much as Bob and I return for another series of Gone Fishing," said Whitehouse. "I love Bob and he needs me more than ever so we're back on the river bank for more high jinks and another series basking in the timeless wonder of the glorious British countryside."
Mortimer added: "I love doing this show and am over the moon to get the chance to go fishing with Paul again. I am already working on heart healthy recipes to cook and new ways to irritate him."
Made by the pair's production company, Owl Power, the series follows the comics, who have known each other since the 1980s and both undergone major surgery for heart disease in recent years, navigating the nation's riverbanks and bonding over their health scares and changed lifestyles.
Whitehouse, an enthusiastic and experienced angler, tutors Mortimer, a keen but novice fisherman, on the art of the catch - with regularly mixed results - as they take in beautiful countryside scenery, cook healthily, and savour the slower pace of life that angling affords.
The fourth series will continue to focus on the pair catching a range of species of fish and is once again directed by Rob Gill and executive produced by Lisa Clark.
"We're all delighted with the positive reaction from so many people, particularly from those looking for a little light relief and escapism in these tricky times we're all facing" said Clark. "The series is a joy to make and I think that comes across in each episode."
BBC Two controller Patrick Holland, who commissioned the show with Catherine Catton, the BBC's head of commissioning for Popular Factual and Factual Entertainment, added: "With so many rivers left to fish, so many stories to be told, and so many new ways for Bob to fall over, it was inevitable that this glorious series would return. Thank you Bob and Paul for making a truly unique series."
Gone Fishing won a Televisual BullDog Award, voted for by the television industry, on Friday; and is nominated for favourite factual show in the TV Times Awards.
The duo released the following video:
See tweet
---
For updates, click the buttons below.
Share this page