Elizabeth Day's TV comedy
Elizabeth Day writing TV comedy based on How To Fail
Podcast and book How To Fail is being adapted for television
Author Elizabeth Day is developing a semi-autobiographical narrative comedy based on her hit book
She has mooted that Daisy Edgar-Jones could star as her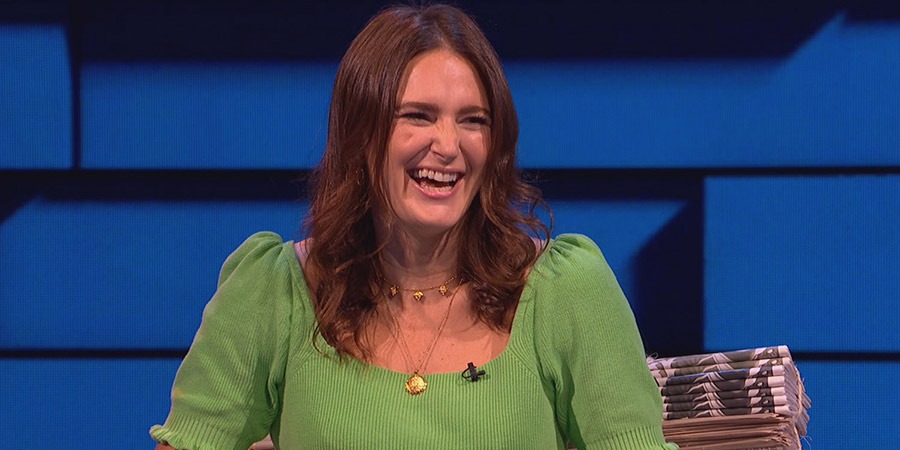 Elizabeth Day is adapting her memoir-manifesto How To Fail into a television comedy.
Appearing on The Russell Howard Hour last week, the author and journalist told the comedian she is currently writing the script, "a fictionalised comedy version of my life".
No broadcaster is currently attached, British Comedy Guide understands, but Day is drafting outlines for episodes ahead of pitching to channels.
Inspired by her podcast of the same name, How To Fail was published last year with the sub-title "Everything I've Ever Learned From Things Going Wrong", and was Day's first non-fiction book after four novels.
The book includes extracts from her interviews with celebrity guests, but also the English-born, Belfast-raised writer's account of her difficult school days, her divorce and the trauma she experienced after failing to conceive and having a miscarriage.
Nevertheless, the Irish Times has described it as "gloriously life-affirming", while the Guardian called it "painfully honest, but filled with humour and hard-earned wisdom".
Day, who will be discussing her latest book, Failosophy: A Handbook For When Things Go Wrong, at the newly reopened London Palladium on Friday, having interviewed Graham Norton about his third novel at the same venue yesterday, will host Book Club Live on Sky Arts with chef and broadcaster Andi Oliver from 18th October.
The show was commissioned by Philip Edgar-Jones, director of Sky Arts. Day told Howard that her dream casting to play herself in a television adaptation would be his daughter Daisy, star of the hit BBC drama Normal People.
"I feel like this sounds arrogant to say it because she's much younger than I am but I love Daisy Edgar-Jones, I thought she was amazing in Normal People and she's a brunette" Day suggested.
Expanding on her memoir's philosophy, she told Howard: "I think we all fail, that's the first thing to say. It's actually quite a democratising thing when you realise that. Even though we all fail and we all make mistakes, so many of us are fearful of it and my whole point is, we shouldn't feel fearful of something that's inevitably going to happen at some point in our life.
"And actually, unless we make a mistake, we can't learn the lessons that we need to learn. So making mistakes and making failures actually make you stronger, more resilient and more able to succeed in the future, that's the premise of it anyway."
Day's fourth novel, The Party, which follows a group of privileged young men as they progress from public school to Oxford and a fictionalised Bullingdon Club, and end up running the country, was optioned for a four-part drama adaptation before it was even published, in 2017.
Guests on the How To Fail podcast have included Daisy Edgar-Jones, Phoebe Waller-Bridge, Adam Buxton, Ruby Wax and Meera Syal.
---
For updates, click the button below.
Inspired by her hugely popular podcast, How To Fail is Elizabeth Day's brilliantly funny, painfully honest and insightful celebration of things going wrong.
This is a book for anyone who has ever failed. Which means it's a book for everyone.
"If I have learned one thing from this shockingly beautiful venture called life, it is this: failure has taught me lessons I would never otherwise have understood. I have evolved more as a result of things going wrong than when everything seemed to be going right. Out of crisis has come clarity, and sometimes even catharsis."
Part memoir, part manifesto, and including chapters on dating, work, sport, babies, families, anger and friendship, it is based on the simple premise that understanding why we fail ultimately makes us stronger. It's a book about learning from our mistakes and about not being afraid.
Uplifting, inspiring and rich in stories from Elizabeth's own life, How To Fail reveals that failure is not what defines us; rather it is how we respond to it that shapes us as individuals.
Because learning how to fail is actually learning how to succeed better. And everyone needs a bit of that.
First published: Monday 25th March 2019
It looks like you're in the US? Fear not! Almost everything can still be ordered.
Amazon UK
deliver internationally,
Amazon.com
carries many items separately, or you can look out for US/Canadian flags on our product listings for direct links.
If ordering from a UK store, please note that you are in Region 1 (DVD)/Region A (Blu-ray), whilst the UK is in Region 2/B, respectively. This means that many - but by no means all - may fail to play. Look for products marked "Region free", "All regions", "Region 0" or "Multi-region". Blu-rays may also be marked "Region A/B/C", "Region free", or variations thereof. You may also check whether your DVD/Blu-ray player supports multi-region playback (also referred to as "region free"), or whether it can be set to do so. There should, of course, be no problems with books, CDs, or other physical items.
More advice & help on importing
Share this page