Dave Spud Series 2
CITV orders The Rubbish World Of Dave Spud Series 2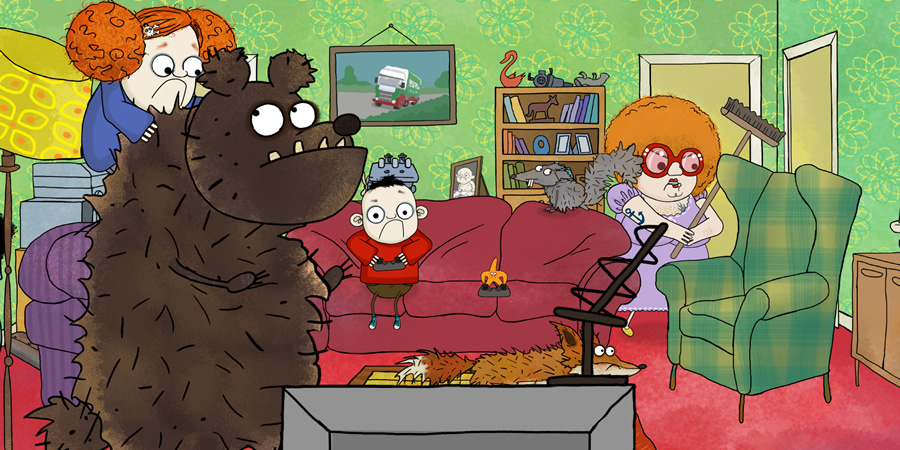 CITV have commissioned a second series of animated comedy adventure The Rubbish World Of Dave Spud, for broadcast in Winter 2020.
The sitcom, which launched in September 2019, follows the no-nonsense close-knit Spud family and their amazing escapades.
Johnny Vegas voices the eponymous hero Dave Spud; with Gina Yashere as his friend, Gareth the Starfish; Phillip Glenister and Arthur Smith play Dave's mum Betty and dad George respectively; Lisa Hammond is Anna, Dave's sister; and Jane Horrocks voices the outrageous Gran. Akiya Henry and Adam Gillen are also in the voice cast, playing Dave's friends. All will return for the new episodes.
In total, CITV has commissioned an additional 52 episodes from producers The Illuminated Film Company, for delivery over 2020 and 2021.
The comedy is popular on the network, to the extent that British Comedy Guide's database shows CITV has scheduled over 1,000 episode repeats since it launched.
ITV comments "The Rubbish World Of Dave Spud is not your average series and has pushed the boundaries targeting children aged 6 to 11."
They add: "The new series will see the world explored further and open up new adventures."
Producer Iain Harvey comments: "We have really appreciated the support from ITV for the series and it has been exciting seeing the success the first series has had for CITV and kids up and down the country. We cannot wait to share more escalating adventures of this Northern family."
Emma Barnard, commissioning editor for the series, adds: "The Rubbish World Of Dave Spud is everything we look for in original programming for CITV and more. Wildly imaginative, funny, brilliantly produced and brought to life by the voices of a stellar line up of actors. We're absolutely delighted to land a new series and we're celebrating by showing the original run in full on CITV on the Bank Holiday. Enjoy."
The new episodes of The Rubbish World Of Dave Spud will start being shown on CITV from Winter 2020.
---
For updates, click the button below.
Share this page