Keith Lemon craft series
Keith Lemon to co-host Channel 4 craft series
Keith Lemon will co-host new Channel 4 series The Fantastical Factory Of Curious Craft
The Bake Off style show will see Lemon and Anna Richardson oversee a crafting competition
Keith Lemon says he is looking forward to being able to "marvel at the mad skills of our crafters"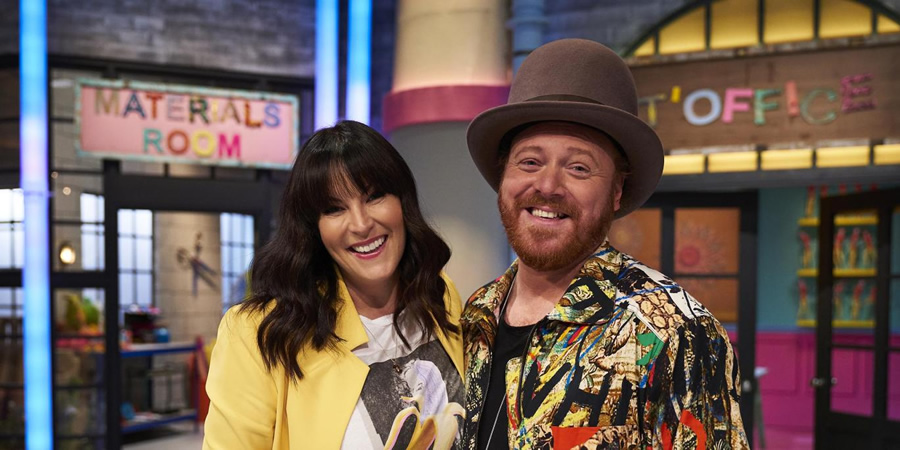 The comedy character Keith Lemon will co-host a new Channel 4 show called The Fantastical Factory Of Curious Craft.
The "inventive" new series, which will be made up of six hour long-episodes, will see Lemon and co-host Anna Richardson overseeing proceedings as competitors "turn crafting on its head to create Prop-like, mic-drop craft of epic proportions".
Channel 4 says the format focuses on innovative creatives from across the UK "as they use their artistic talent to wow us with spectacular makes."
The format, which would appear to share competition elements similar to The Great British Bake Off, is filmed in a "surreal" factory set.
Producers explain: "Each episode features four fabulous crafters who must use their unique creative skill set, to stick, sew, hammer and craft their creations in to life.
"Over two fantastical rounds, Keith and co-host Anna Richardson help the grafting crafters navigate through the tasks as they construct their spectacular creations.
"In the first round the crafters will create a bespoke item in response to a fantastical brief from factory owner Keith. Quality control craft experts, Harriet Vine MBE and Zak Khchai, will deliberate and help Keith choose the three most impressive makes with the worst one being dramatically 'recycled'. The remaining crafters will advance to round two, where a celebrity guest will commission them to make the most fantastical creation of their lives before deciding which of our crafters will be declared the winner of the show."
It will be the first Channel 4 series for Keith Lemon actor and Bo' Selecta! star Leigh Francis since he moved to ITV over a decade ago to host series in character such as Celebrity Juice and Through The Keyhole.
Painting a backstory for the character, Channel 4 say: "Keith Lemon is a talented artist and crafter. Before becoming a household name, he studied art and design at Leeds College of Art, re-creating props for many of his TV shows including an ET model out of masking tape and Kinder Surprise Egg packaging for Keith Lemon Sketch Show. He also built life size models of the Star Wars characters R2D2 and C3PO. Founder of 'KIL Clothes', his official clothing line where all the clothes feature original designs by Keith who uploads his makes, graphic designs and doodles to social media to #lemonart."
The character comments: "I've always had love for making things, drawing and painting. I'm also a very good dancer. But that's for a different show. I honestly can't wait to get in that Fantastical World of Factory of curious craft to marvel at the mad skills of our crafters! In fact, I'm changing my middle name of Ian to 'craft'! Keith Crafty Lemon! Word!"
Sarah Lazenby, Channel 4 Head of Features and Formats, added: "What do you get if you cross Keith Lemon, craft, the host of Naked Attraction and a factory full of glitter? The answer is a world of pure imagination, and we can't wait for this joyous format to burst on to screens soon!"
The show is made by Gordon Ramsay's production company Studio Ramsay. Lisa Edwards and Ramsay say: "We are hugely excited by this one of a kind format - mischievous, smart and fantastical, we can't wait to let some of Britain's brightest crafters shine. With grand master crafter Keith at the helm, we are delighted to be bringing this magical world to life on Channel 4."
The Fantastical Factory Of Curious Craft will be shown on Channel 4 at a later date. Francis will continue to host ITV shows as Keith Lemon, with Celebrity Juice due to return soon for a 22nd series.
---
For updates, click the button below.
Share this page