Channel 4's Lady Parts
Channel 4 commissions female Muslim sitcom Lady Parts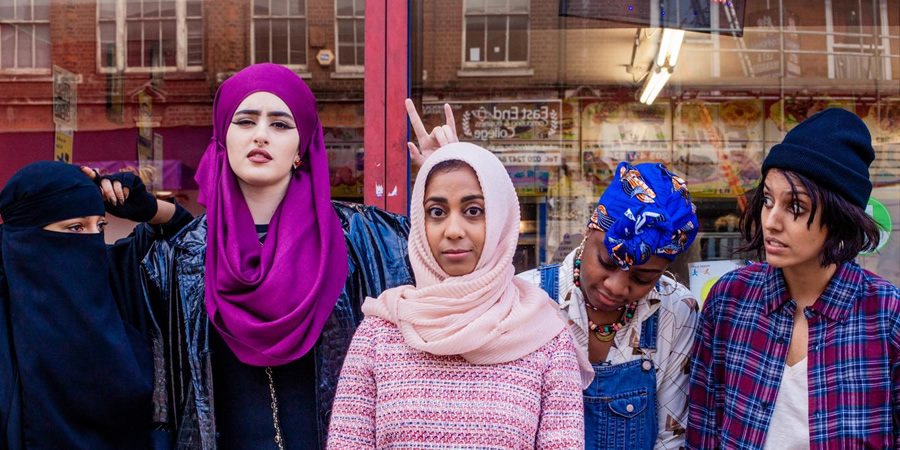 Channel 4 has commissioned a comedy about a female Muslim punk band.
Lady Parts debuted as a Comedy Blap online pilot in 2018, written and directed by Nida Manzoor.
The "anarchic and laugh-out-loud music comedy" is produced by WTTV, the television arm of highly successful British film company Working Title, as it moves further into small-screen productions.
They explain: "Lady Parts shows the highs and lows of the eponymous band as seen through the eyes of Amina Hussein - a geeky PhD student who is recruited to be their unlikely lead guitarist. The band's fierce and enigmatic front-woman Saira sees something in Amina that the others can't see. Saira uses Amina's desperation to find a husband as leverage, offering to hook up dates for her if she agrees to join the band. Amina has never, ever met girls like this before, and soon gets swept up in their joyful anarchic energy and general punk-badassery. But will she be the key to the band's success? And - will she finally find a husband?"
Nida Manzoor says: "I had such a blast making the Channel 4 Comedy Blap and am so thrilled to have the opportunity to make a full series. The show is so close to my heart and I feel very lucky to be working with the incredible people at Channel 4 and WTTV, who have been so supportive and encouraging throughout."
Fiona McDermott, Head of Comedy at Channel 4, said: "Lady Parts promises to be an audacious, celebratory and hilarious new comedy. Nida is a phenomenal talent who had such vision for this show and the women and world she wanted to portray, it was impossible not to succumb to it after the success of the Blap. We're thrilled to be working with her and all at Working Title on scaling it up."
Surian Fletcher-Jones, Head of Development at WTTV added: "We feel very lucky indeed to be working with the extraordinarily talented Nida on this brilliantly funny and wildly original show. We are enormously grateful to Fiona McDermott and Laura Riseam in C4 Comedy for giving us this opportunity."
Casting for the series has yet to be confirmed.
---
For updates, click the button below.
Share this page